Archive for February, 2013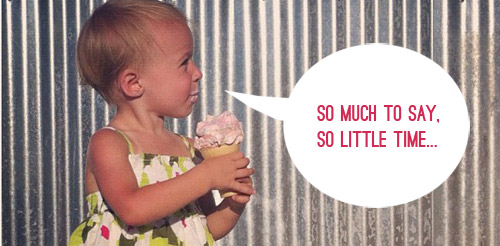 Convo #1
Clara: Haha! I pooped! I tooted!
Mommy: Did you poop or did you toot?
Clara: …(thinking)… both of them?
Convo #2
Mommy: Do you want to play with your dollhouse with me?
Clara: That's not a bad idea.
Convo #3
Clara: (while staring at a small tree at the mall) It's a big big tree in a big big world.
Convo #4
Clara: (sitting in my desk chair) I have a little bit of work to do, ok? Because I'm a lady.
Convo #5
Clara: What were you doing in there?
Daddy: I was going potty.
Clara: Did you see your booty?
While we were thrifting for our Macklemore Thrift Stop Challenge, Clara decided to come up with her own thrifting-inspired song. Hers isn't quite radio ready though – the only lyrics I can understand are "pumpkin Halloween" based on two pumpkin ornaments that we found in a Halloween section of the thrift store. And the whole thing is to the tune of "Where Are You Christmas?" from the movie The Grinch, which we've had saved on our DVR since December.
Oh, and you can see that this entire scene takes place next to the pirate bed that we found but, sadly, didn't purchase…