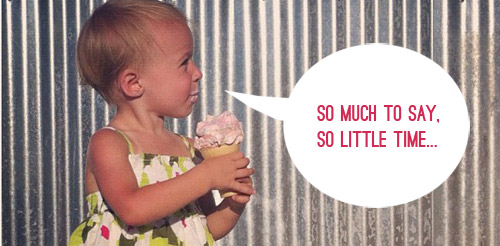 Convo #1
Clara: Haha! I pooped! I tooted!
Mommy: Did you poop or did you toot?
Clara: …(thinking)… both of them?
Convo #2
Mommy: Do you want to play with your dollhouse with me?
Clara: That's not a bad idea.
Convo #3
Clara: (while staring at a small tree at the mall) It's a big big tree in a big big world.
Convo #4
Clara: (sitting in my desk chair) I have a little bit of work to do, ok? Because I'm a lady.
Convo #5
Clara: What were you doing in there?
Daddy: I was going potty.
Clara: Did you see your booty?
&nbsp Comment

&nbsp&nbsp&nbsp

&nbsp

&nbsp
If you enjoyed this post, please leave a comment or subscribe to the feed and get future articles delivered to your feed reader.
80 Comments