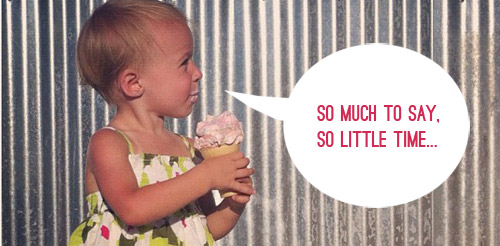 Convo #1
Clara: (looking at a painting of a wine bottle, red wine in a glass, and a baguette at Panera) Look mommy! It's water and some ketchup and a hot dog!
Convo #2
Clara: (drops a yogurt raisin while in a cart at Target and it rolls out of reach under a display rack) Oh no! Yogurt raisin!
Daddy: That's ok, you have more. That one's yucky on the floor under there. (continues rolling cart down the aisle)
Clara: (screaming down the aisle at Target) Come baaaack yogurt raisin!
Convo #3
Clara: (to mommy) I'll be the mommy and you can be the baby. Here you go sweetie (hands me a wooden strawberry from her play kitchen). Does that feel better? Does that make your tummy better?
Convo #4
Clara: (putting stuffed animal in her shirt) There's a baby in my belly.
Daddy: Is it a boy or a girl?
Clara: It's a girl.
Daddy: What's her name?
Clara: Sally Burger Baby Ben.
Convo #5
Clara: (while petting Burger) Burger, you be nice to me. Because I'm a lady.
Convo #6
Grammy: Where did you get those pretty eyes?
Clara: From my face.
&nbsp Comment

&nbsp&nbsp&nbsp

&nbsp

&nbsp
If you enjoyed this post, please leave a comment or subscribe to the feed and get future articles delivered to your feed reader.
113 Comments