Archive for January, 2013
This is a fun monthly letter about my life that I share with my pen pal who is also named Clara and lives all the way in Germany! Each time, my friend Clara also shares a letter with me, so I get to read all about the life of a little girl with the same name in Germany. I think it's really cool – and hope you guys do too!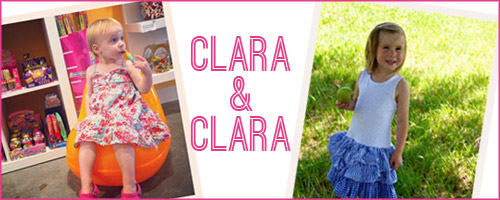 Oh and I get a little help from mommy when it comes to writing my letter, and my friend Clara's mommy helps to translate my letter at the bottom of this post into German so my friend Clara can read it. You can drop in on her letter to me right here (which is translated into English at the bottom of her post).
Hi Clara! I'm excited to hear about your Christmas and can't wait to share how mine went. Here's how I described these photos when mom held them up for me so I could tell you about them:
"My advent presents! Mommy showed me Germany on the map. Thank you Clara for sending them. Thank you to your mommy and daddy too. My favorite things was the socks. And what else? The tissues!"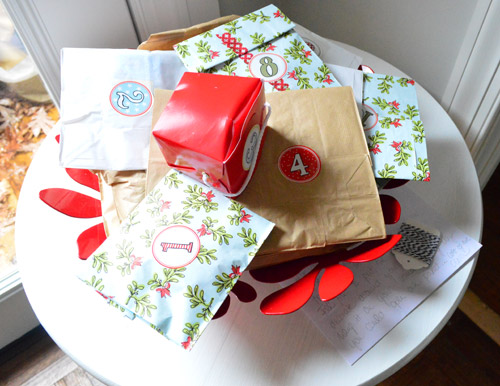 "Mommy and daddy made this pretty pretty tree. I like to touch the ornaments with one finger. We have to be so gentle. Burger looks at them but I can touch them with one finger. Mommy and daddy put bags and boxes under the tree and Santa fills them with presents when we are sleeping and dreaming. But I have to be a good girl and Burger has to be a good boy. Burger is a boy and a dog!"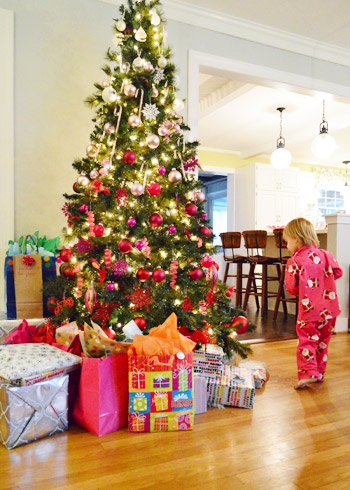 "On Christmas I waked up and my presents were here. I got colorings (markers) and legos and a big green hat. Is that silly?"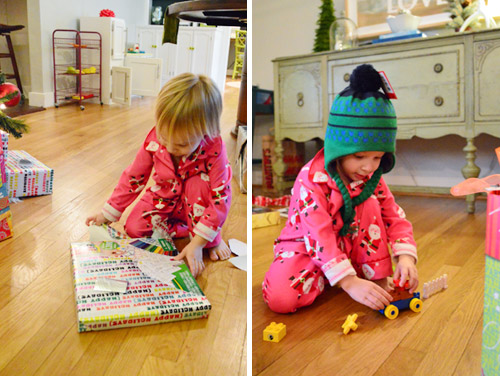 "My kitchen! I asked Santa for eggs. And I asked Santa for ice cream. He got me lots of food for my kitchen. And a fridgerator. I love my eggs. They're my favorite eggs in the whole world."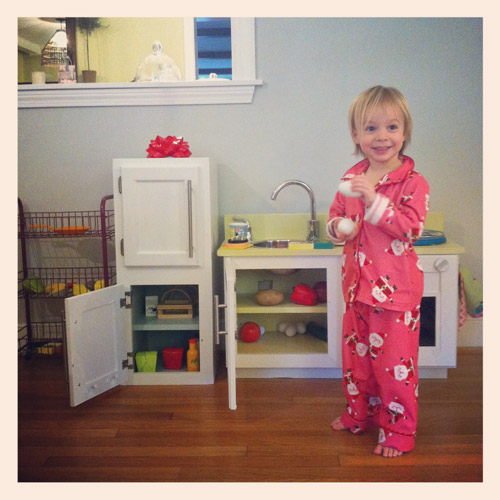 "That's Grammy and Tom Tom's house. I see Ellen and Travis and Elsa and Grammy and Emanuel and Baby Ben and Aunt Katie and Aunt Kitty and Edison and Emily and Mommy and Clara. We got to open more presents there and eat lunchie. Grammy always has ice cream. We danced to Elmo too."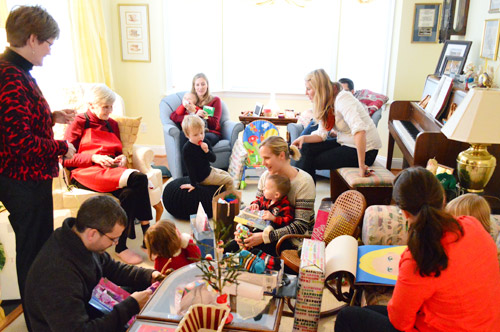 "For dinner we had lots of food but it was real food and not pretend food for my kitchen. I see Emily and Todd and Grammy and Tom Tom and Martin and Mommy and who's that? Aunt Carrie?"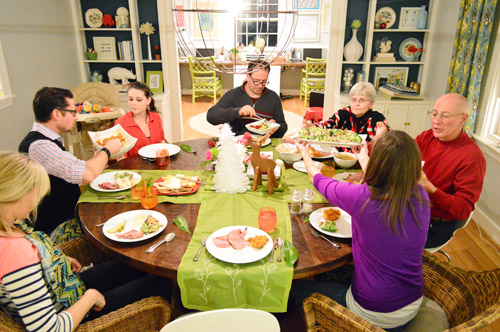 "John's giving me some yummy ice cream. We're sharing!"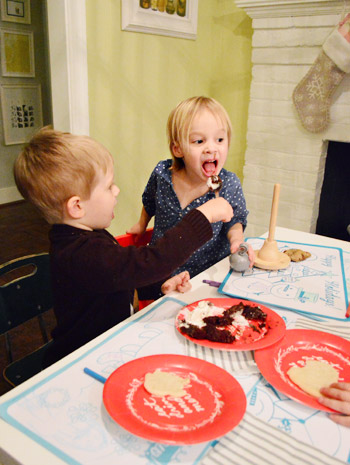 "That's Emanuel and John reading with me. Emily was reading a story about trucks. I like those red socks. Maybe Santa will bring me some of those if I'm a good girl."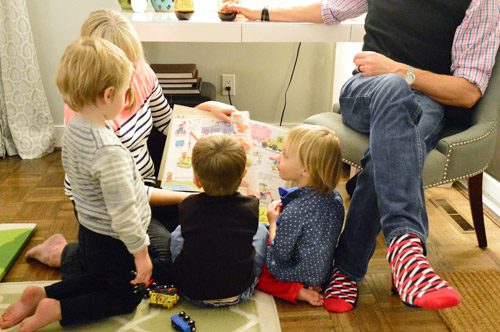 "This is my family. I love Jakob and Olivia and Baby Ben and Emanuel and John… and Clara!"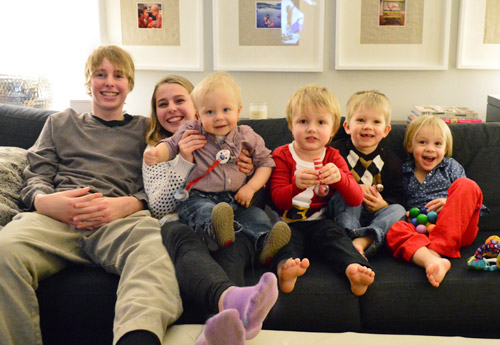 "Buh-bye Clara from Germany! Happy New Year!"

xoxo,
Clara
____________________________________________________________
Here's our Clara's letter translated in German for her pen pal:
Hi Clara!
Ich bin schon so gespannt, von deinen Weihnachtserlebnissen zu hören und kann es gar nicht mehr erwarten, dir zu erzählen, wie es mir hier ergangen ist. Hier beschreibe ich dir die Fotos, die meine Mama dafür für mich ausgesucht hat.Mein Adventskalender: Meine Mama hat mir Deutschland auf der Landkarte gezeigt. Danke schön Clara, dass du mir diesen tollen Adventskalender gesendet hast. Danke auch an deine Mama und deinen Papa dafür. Mein liebstes Geschenk daraus waren die Strümpfe. Und was noch? Die Taschentücher! Mama und Papa haben diesen traumhaften Weihnachtsbaum geschmückt. Ich liebe es, die Anhänger mit einem Finger zu berühren. Da müssen wir nämlich ganz besonders vorsichtig sein. Mama und Papa haben Schachteln und Tüten unter den Baum gelegt und der Weihnachtsmann hat sie befüllt, während wir geschlafen haben. Aber dafür musste ich ein braves Mädchen sein und Burger ein braver Junge. Burger ist ein Junge und ein Hund. Am Weihnachtsmorgen bin ich aufgewacht und meine Geschenke waren da. Ich habe Stifte, Lego und einen grünen Hut bekommen. Ist das nicht lustig? Meine Küche: Ich habe den Weihnachtsmann um Eier und Eis für meine Spielküche gebeten. Er hat mir jede Menge Lebensmittel hierfür geschenkt. Und sogar einen Kühlschrank. Ich liebe meine Eier. Sie sind meine liebsten Eier auf der ganzen Welt. Hier sind wir in Omis und Tom Tom's Haus. Ihr könnt Ellen und Travis und Elsa und Omi und Emanuel und Baby Ben und Aunt Katie und Aunt Kitty und Editson und Emily und Mami und Clara sehen. Wir haben noch mehr Geschenke geöffnet und haben zu Mittag gegessen. Omi hat immer Eiscreme. Wir haben außerdem zu Elmo getanzt. Zum Mittagessen hatten wir jede Menge leckeres Essen. Aber es war richtiges Essen, nicht nur Essen für meine Kinderküche. I sehe Emily und Todd und Grammy und Tom Tom und Martin und Mami und wer ist das? Tante Carrie? John gab mir etwas von seiner Eiscreme. Wir haben geteilt. Das sind Emanuel und John mit mir zusammen beim Lesen. Emily hat uns eine Geschichte über Lastwagen vorgelesen. Ich liebe solche roten Socken. Vielleicht bringt der Weihnachtsmann mir auch solche, wenn ich ein braves Mädchen bin. Das ist meine Familie. Ich liebe Jakob und Olivia und Baby Ben und Emanuel und John … und Clara. Buh-bye Clara aus Deutschland und ein frohes neues Jahr.
xoxo, Clara