Archive for January, 2013
Since spending Christmas at home in Virginia means we usually miss out on celebrating with my family up in New York and New Jersey (we do Thanksgiving with them since traffic around Christmas is even worse when it comes to driving up there), we had a special pre-Christmas visit from someone… my mom! Aka Nonna.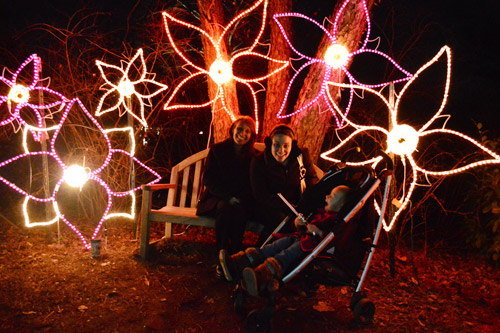 She stayed for about four days of the week before Christmas (yikes, these photos are late!) and among other adventures during her stay, we took her to see the GardenFest of Lights at Lewis Ginter Botanical Gardens here in Richmond. Since John's parents (and Clara) enjoyed it last year, we knew it was bound to be a hit with my mom.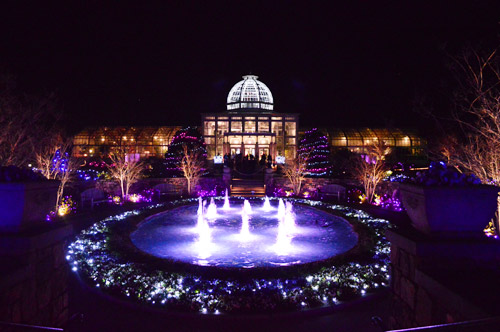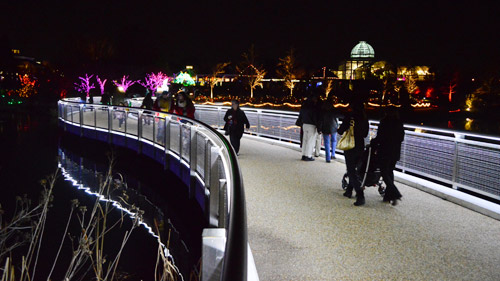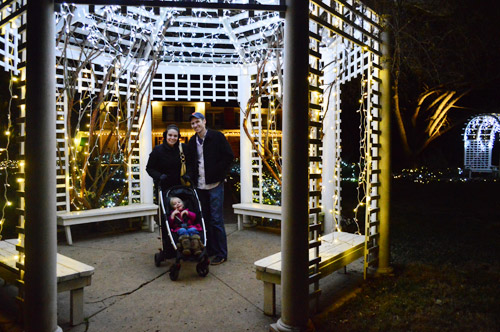 Clara's favorite lights of the night were the ones that created a giant dragon at the entryway to one of the walkways. She was a little too excited to stroll right into it's jaws, though. Where's that self-preservation instinct?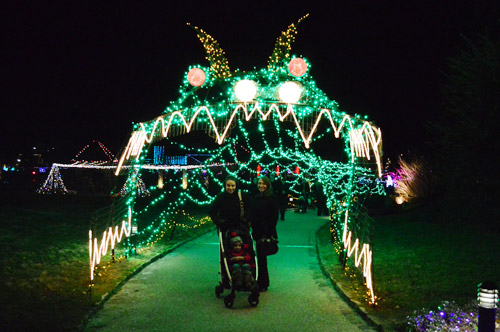 My mom and I agreed that our favorites were these glowing orbs. The photo isn't quite as enchanting as they were in real life, but both of us kind of wanted to sneak one out under our coats. That's one way to start a prego rumor… haha!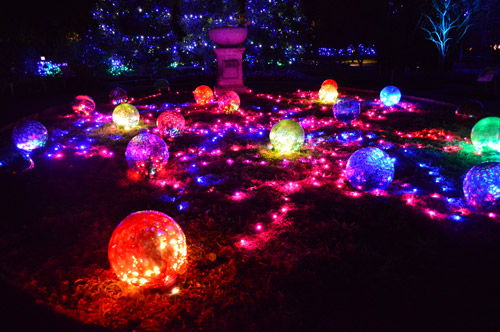 Although we didn't go home with any of those, Clara did take home one illuminated accessory: a light-up sword that kept her entertained after the decorative lights outside started to lose their toddler appeal. Let's call it our lifesaver lightsaber.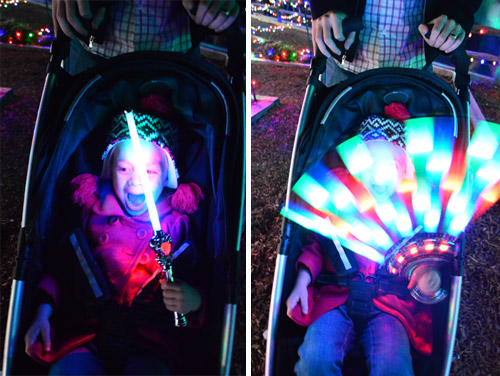 Since Nonna had to head back home before the 25th, we also did a little early Christmas celebration with her. Clara got to unwrap a few fun presents like this wooden doctor kit (#3 on our kiddo gift guide this year). It was a strategic gift to help Clara feel more comfortable going to the doctor (she loves talking about it and pretending to check out her stuffed animals, but actually going used to make her cry). Since she had a regular old check up the next day  – which my mom also got to join us for – we thought it might make our infrequent visits more bearable. (Jackpot, it helped).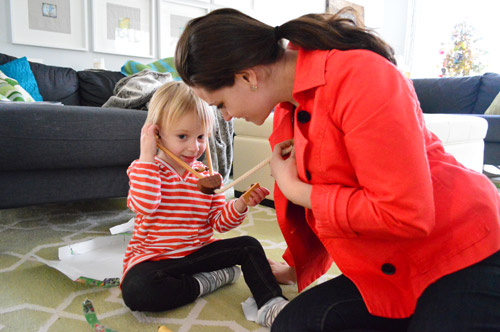 Nonna didn't forget about her fur-grandchild either. Just check out that tail wag! Don't mind my crazy face. I'm obsessed with my fur kid.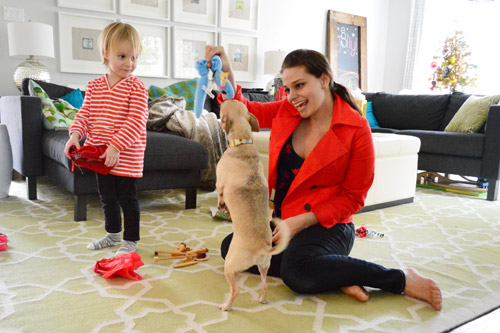 Nonna's also got Jingle (the dog from Hallmark that barks along with a story as you read it) which Clara is still quite obsessed with. Not necessary for its magical story-barking abilities, but just because she's obsessed with stuffed animals. She even brought Jingle to Target and sat him in one of the kid-potties in the toddler aisle and screamed "Mommy, Jingle's Pooping!" loud enough for everyone in a five aisle radius to hear. #thatreallyhappened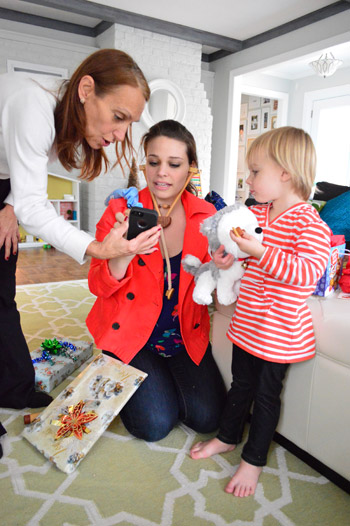 Nonna also got Clara her first set of Lego's. She wanted to find something to go with the doctor kit theme, but none of the bigger toddler-sized Lego's worked, so we got a regular Lego ambulance. The pieces were too small for Clara to work without a certain Lego-loving husband of mine's help, but he was in heaven while assembling it. Basically that was John's favorite ten minutes ever.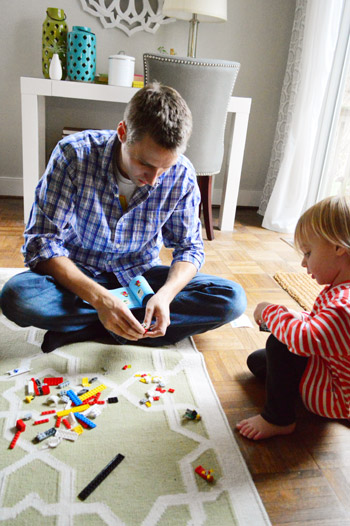 And once it was all assembled, Clara was completely in love too.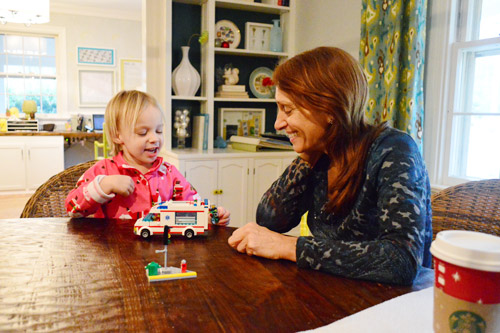 So glad my mom was able to come down and hang with us before the real Christmas insanity began just a few short days later. Thanks momma! Clara just looked over my shoulder as I was editing this post and asked when you were coming back. Aww. We love us some Nonna time…
Blame it the holiday hustle and bustle. Blame it on residual book tour exhaustion. Blame it on the a-a-a-a-a-alcohol (even though none was involved). Whatever our excuse, we're owning up to being nearly a full month late on shooting Clara's 31 month photo.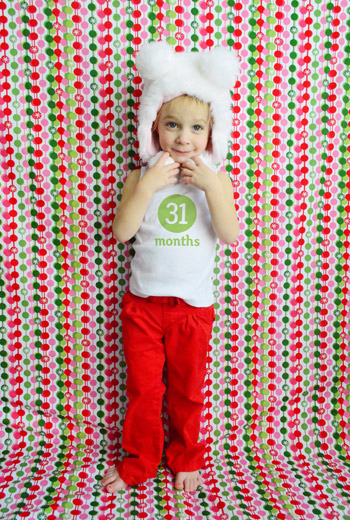 She officially turned 31 months on December 14th, hence the Christmas themed fabric that we purchased for these photos. And even though all of our holiday stuff is packed up for the year, we did break out a Santa hat. Just for kicks.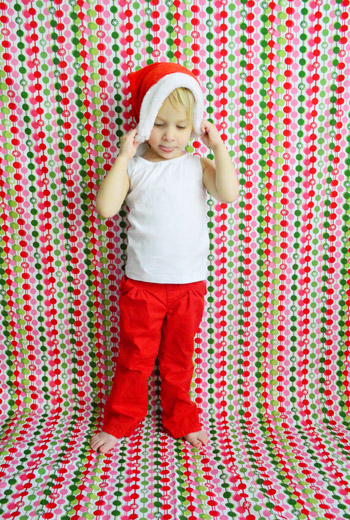 But the Santa hat only lasted so long since Clara quickly figured out she could rob banks with it…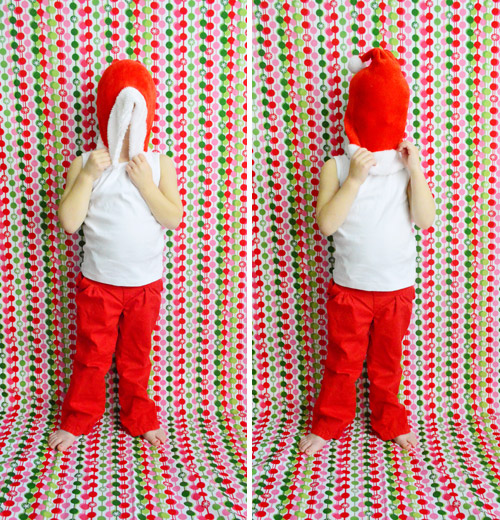 That's when we swapped in the big furry winter hat that you see in the final pic.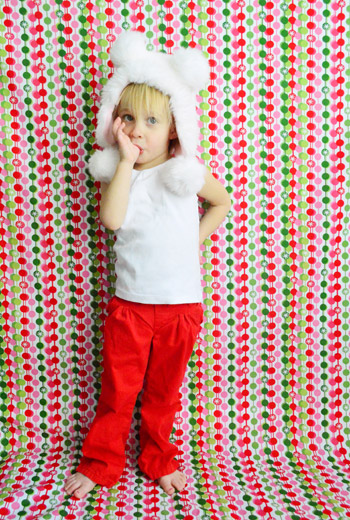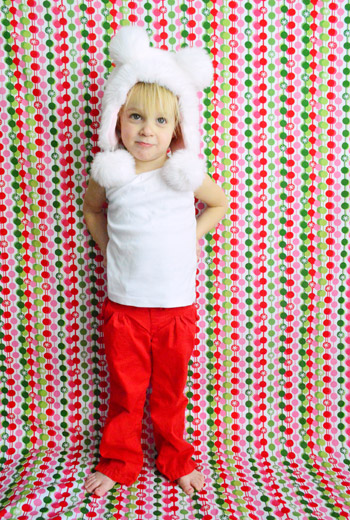 But even that hat didn't last the whole time. You know, sometimes a girl's just gotta pretend she's in a shampoo commercial.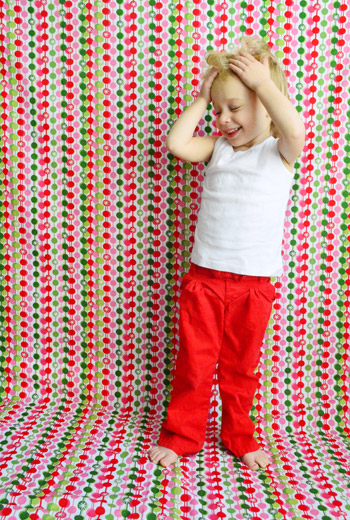 We're just proud of ourselves for knocking this puppy out before she turns 32 months next Monday. The fact that she's closer to 32 than 31 months old for the photos above will just have to be our little secret. Shh.