Archive for November, 2012
I recently discovered the music duo Matt & Kim. Along with that came the discovery that Clara likes to rock out to their song "Cameras." Well, more specifically just the first 10 seconds of it.
If you wanna hear the whole thing, here's the official music video for the song (although there are fight scene noises over the whole video). If you ask me, that video needs less fighting and more sweatbands.
Last Wednesday (aka Halloween) marked Clara's first legit trick-or-treating adventure.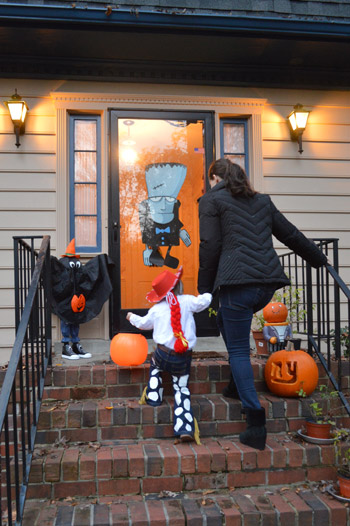 We got rained out last year and the first year she could barely sit up unassisted, let alone knock on doors begging for candy. So it was a treat in itself that this year the stars aligned and we could take Clara out for some good ol' fashioned T-or-T-ing.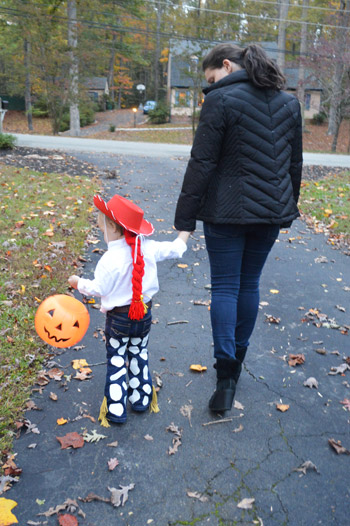 The verdict? She loved it. As demonstrated by this pic (the only one that we got of her smiling face, since she spent most of the adventure dragging us down the street so we just had a view of her braid).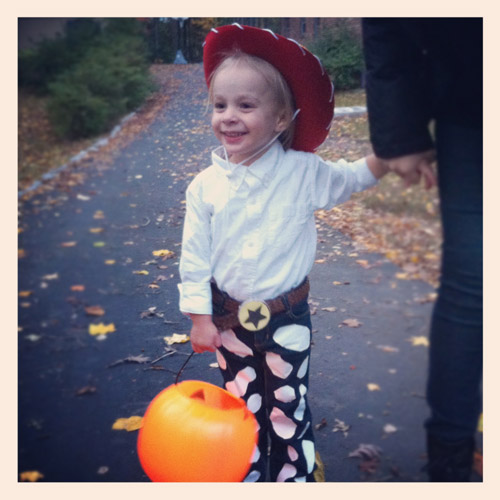 She proudly donned her homemade Jessie the cowgirl costume, grabbed her pumpkin bucket, and marched with us to about 8 or so houses.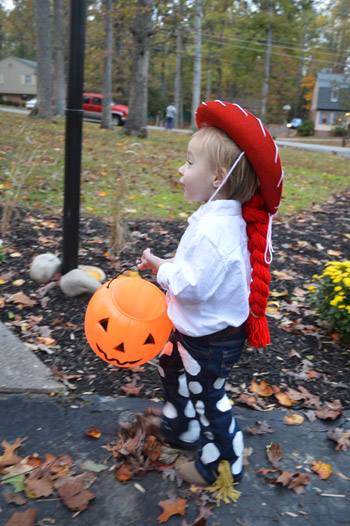 We left Burger at home because, well, he only wears his costume for about 10 seconds before shaking it off and he's the shy one of the family. Meanwhile Clara could hardly wait to see all of our neighbors and shout "trick or treat!"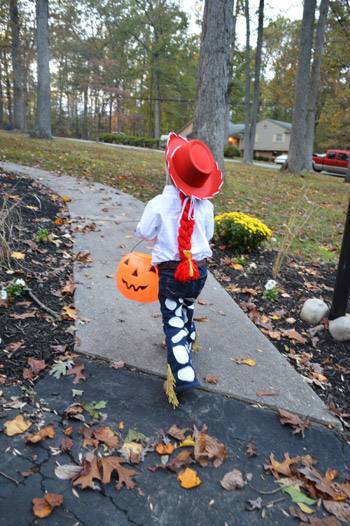 It got darker faster than we expected, so our photos quickly became blurrier and grainier than we had hoped. But there were at least a few sweet moments that got captured on film.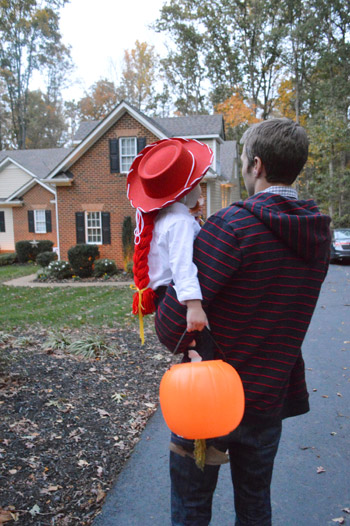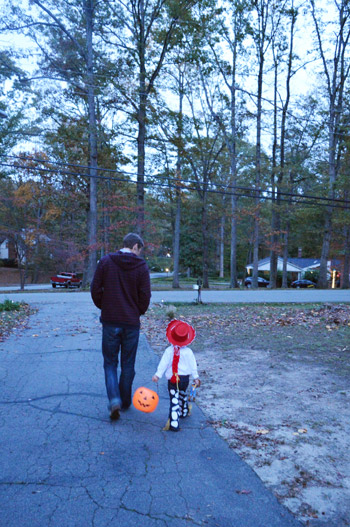 And we probably would've made it to more houses had a band of tweenagers dressed in scary costumes not crossed our paths (and by scary costumes I mean no costumes at all, except for a couple of bloody masks). Clara, whom we've learned is easily frightened by realistic Halloween decorations, was immediately a crying mess and just began wailing "I want to go to my house!" It was a pretty clear sign to call it a night.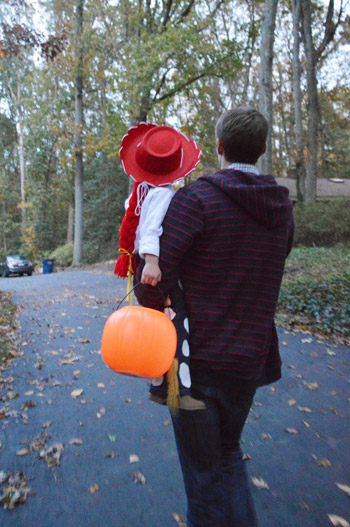 Her loot was pretty meager, but that's more than fine by us. And once we got home and she calmed down she had fun answering the door with me and handing out candy to the rest of the trick or treaters. She was so into the game of "What is he/she dressed up like?" that even this week she still asks us questions like "What is the tree going to be for Halloween?"
How was your All Hallow's Eve? Any especially spooky costumes or houses? Any full size candy bars on your trick or treating route? Clara got one and we were like "wow, they're high rollers." It was awesome.