Archive for October, 2012
Yes, that was a terrible play on "it's always a good time." I'll pause while you roll your eyes. But if you've ever thought to yourself, "This blog doesn't have nearly enough photos of goats on it" then you're in luck. Because last week we hit up the State Fair of Virginia (our little fall tradition) and Clara was in farm animal heaven.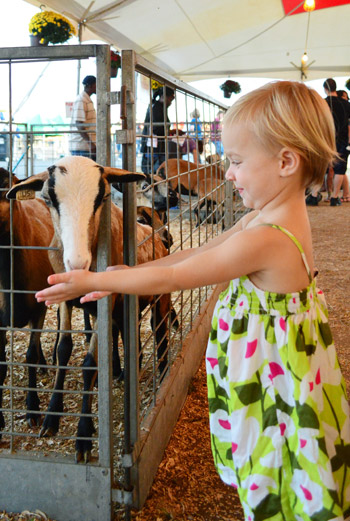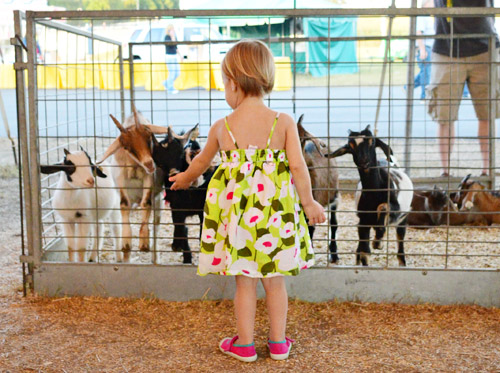 She was as fearless as usual when it came to shoving a handful of feed in their mouths. But there was one goat that maaaaa'd at her and she was not letting him have the last say. So she "maaaaa'd" right back.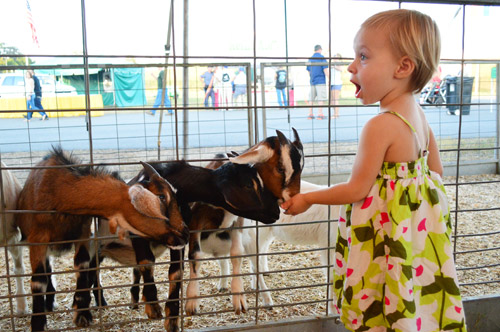 If this isn't a goat photobomb then I don't know what is. Here's looking at you, kid. Note: pun totally intended.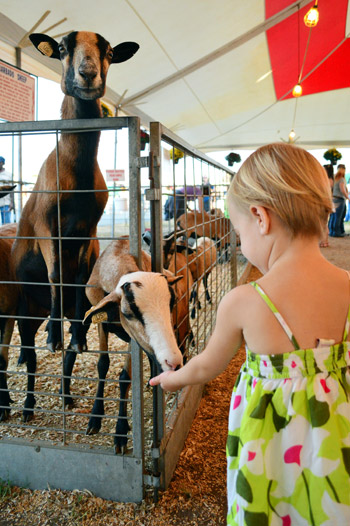 Sherry also learned her lesson not to snuggle too close. In an attempt to pose for an Instagram picture, she got an earful of goat tongue. And I got this lovely snapshot.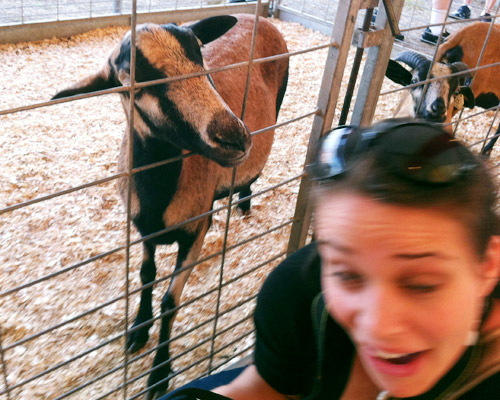 Our $2 cup of goat feed eventually ran out and we managed to peel Clara away from her adopted herd without too much trouble. After all, there was the promise of baby ducks in her future…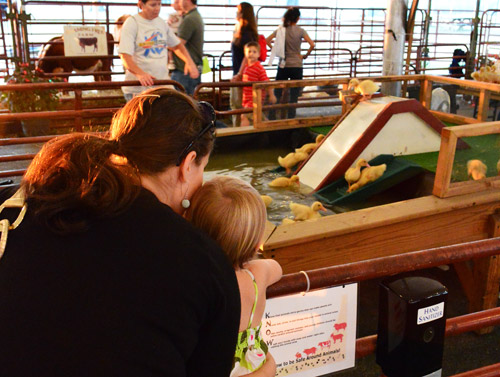 Not only were there baby ducks, they were on a duck slide. Complete and total entertainment.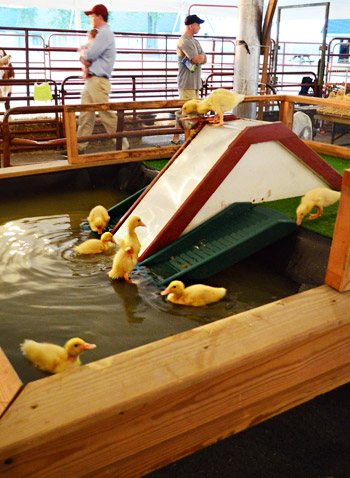 Clara also loved checking out the baby chicks that had just hatched. The booth was a little steamy so it was hard to get a good peek this year…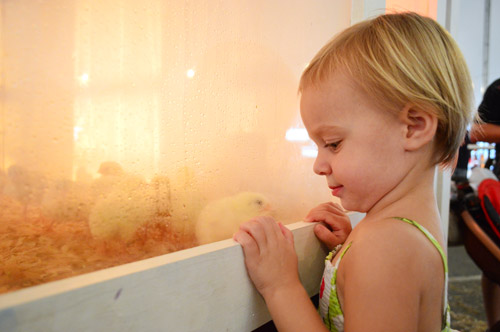 … so sadly we didn't get to totally recreate this precious moment from last year's fair.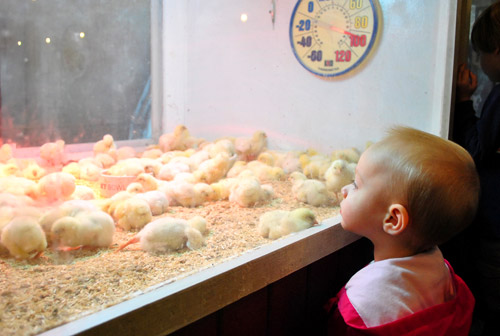 Soon we made our way down from the farm land to the fun land so that we could stroll around, check out the rides, and enjoy the lights.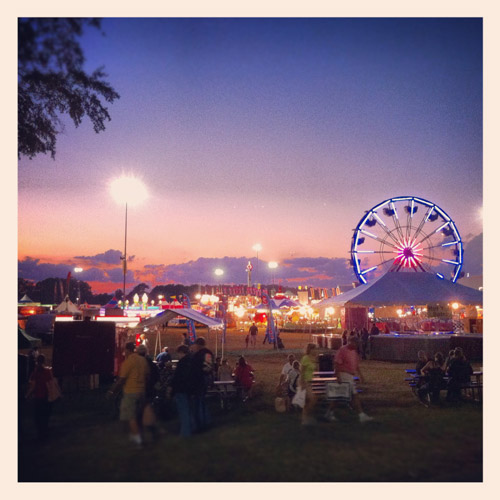 But as soon as we realized that Clara was tall enough to actually ride the rides this year, well, we spent a good portion of the evening like this: watching her go around in circles on everything from boats to alligators.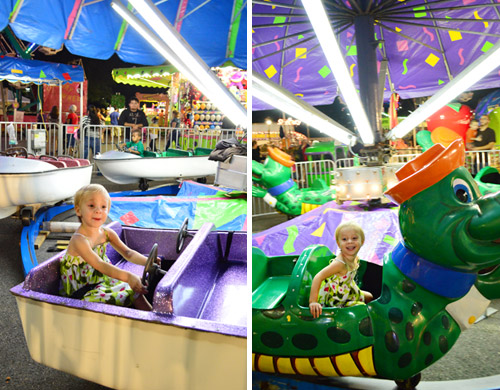 There was even a carousel ride, although Clara decided to switch things up and asked to take a spin on the bench instead.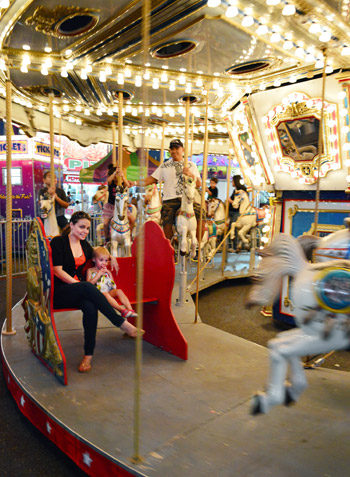 And then there was the worm ride. Let's just say this was a huge hit for our worm-loving girl (see her second b-day party for more evidence of worm-loving behavior).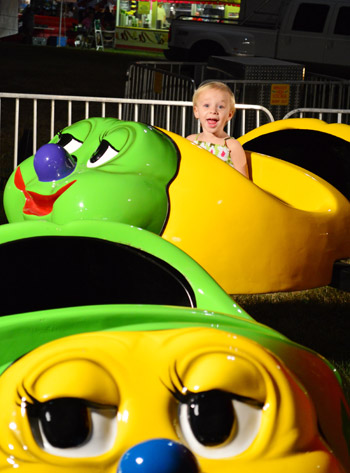 Next door to the worms-spinning-around-an-apple ride was the caterpiller-spinning-around-a-birdsnest ride. I realize this pic is blurry, but it was just the cutest thing. Clara really wanted to sit next to this other little girl (they were the only two on the ride) and the little girl was a very good sport about it. Looks like they even had fun together!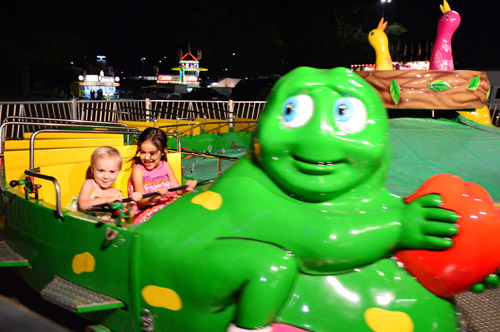 We were too big for most of the ride Clara could go on. But that didn't stop us from enjoy this "rest area" together.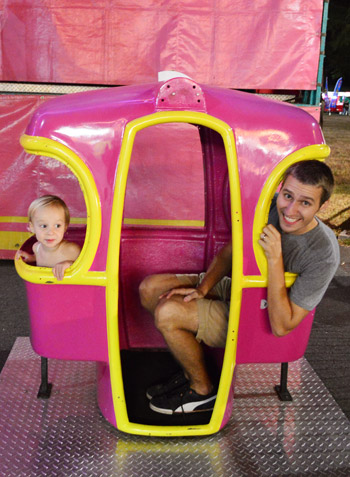 Or the obligatory photo op spots. Sherry realized only afterwards that she was telling Clara to "get lost."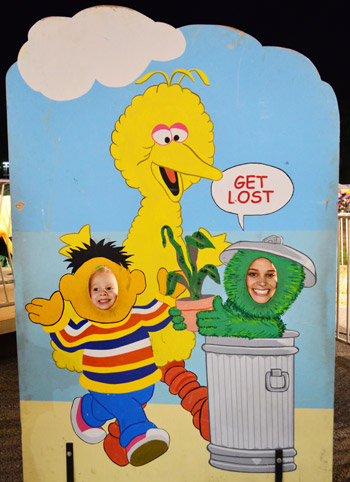 Before we left we of course had to squeeze a treat in there. Clara said she wanted cotton candy. Though based on her reaction, it became immediately apparently that she didn't realize what cotton candy was. This was pretty much the look we got: "You want me to put this in my mouth?!"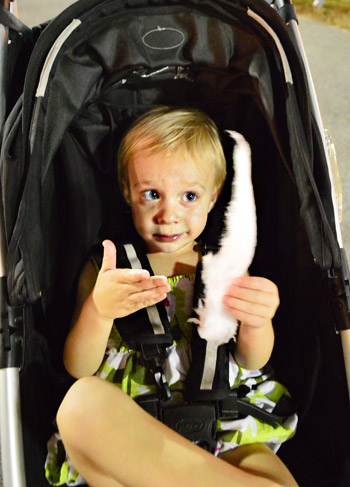 Sherry and I treated ourselves to a Red Velvet Funnel Cake, which we both agreed was just a regular funnel cake with red food coloring. It was still disgustingly delicious, although we couldn't quite finish it off. I blame the cotton candy appetizer.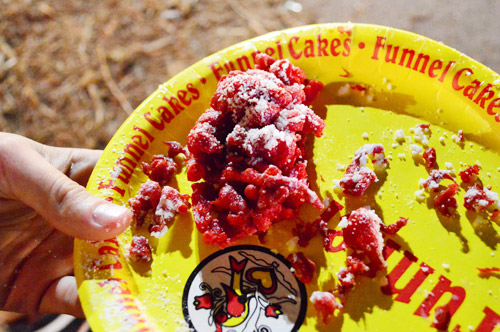 So with sugar-filled bellies, slightly-emptier wallets (those rides aren't cheap!), and a tired little lady ready to have goat-filled dreams, we finally called it a night. And I think we can all agree on one word to describe the evening…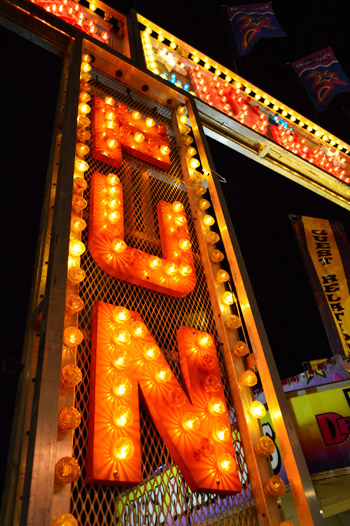 Are you guys hitting up any state fairs? Or doing other fall things like hay-riding or apple-picking?
It's hard to believe it, but our little Burgermeister is six years old now (as of Sept 27th that is). Seems like just yesterday this little 2lb patty joined our family.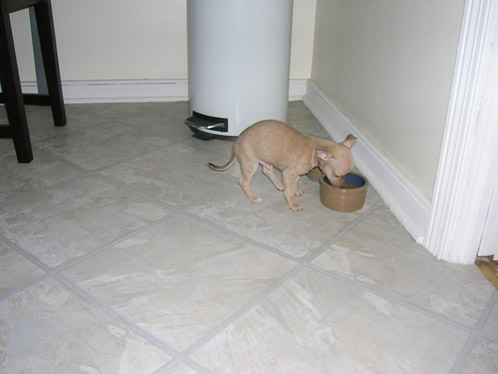 And as has been the tradition around here, like when he turned two, four and five (not sure if we blogged about the others) we treated him to a little "cake" from Three Dog Barkery. Well, and of course we had to sing Happy Birthday too…
You can see in the video above that we learned our lesson from last year that Clara was mighty interested in Burger's treat, which is why we were armed with a treat for her. Why Sherry decided that should be a round of cheese shoved onto a popsicle stick I'll never know…