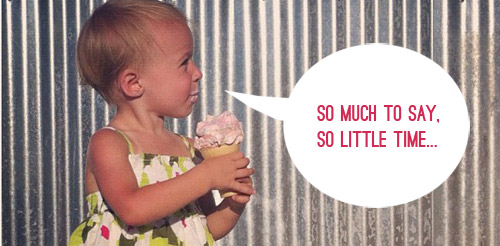 Convo #1:
Mommy (looking at photos of John after his Color Me Rad race): What does Daddy look like?
Clara: He's so messy messy.
Mommy: Isn't he colorful?
Clara: Yes, Daddy is wonderful!
Convo #2:
Clara (looking at Jesus on the cross at my Aunt Kay's service): Who's that man?
Mommy: That's Jesus.
Clara: Oh. He's sleeping. Shhhh.
Convo #3:
Clara (looking at the priest in a long robe): That man has a pretty pretty dress.
Convo #4:
Mommy: What do you want to wear today?
Clara: Monkeys on it!
Mommy: What about your blue dress?
Clara (in a loud dead-pan voice): MONKEYS.
Convo #5:
Mommy (while watching Lion King): Ooh he has scary green and yellow eyes. His name is Scar.
Clara: And he has pretty pretty hair, like a lady.
&nbsp Comment

&nbsp&nbsp&nbsp

&nbsp

&nbsp
If you enjoyed this post, please leave a comment or subscribe to the feed and get future articles delivered to your feed reader.
85 Comments