When my mom came down from NY to visit us last week we thought we'd take a trip to Kings Dominion, a big amusement park just about 30 minutes up the road from us. And why yes they do have a scaled down version of the Eiffel Tower there. John actually grew up taking annual summer trips to Kings Dominion so it was kind of cool to take Clara to ride some of the very same rides he took a spin on as a kid.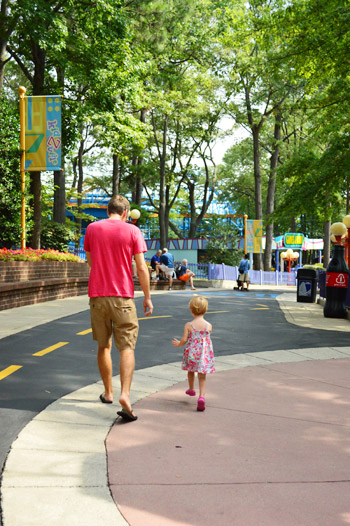 So many rides, so little time. This face is one I like to call "which one should I ride first?"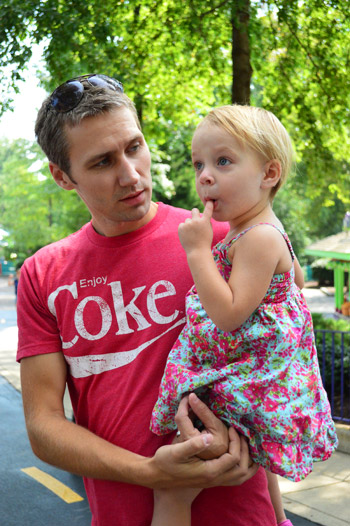 Actually, despite being a ride junkie at a few other places – like our visits to Funland in Delaware – she wasn't as interested in the rides on this particular visit. She was so stuck on the idea of going to the water park area that she couldn't bring herself to enjoy much else. Although she did stop to give some love to the various Snoopy statues around the park. This bended knee action kills me.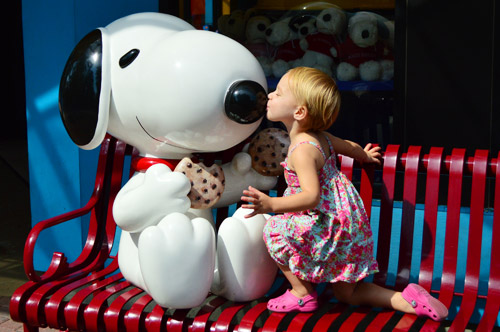 This one is entitled: Snoopy, let's hug it out.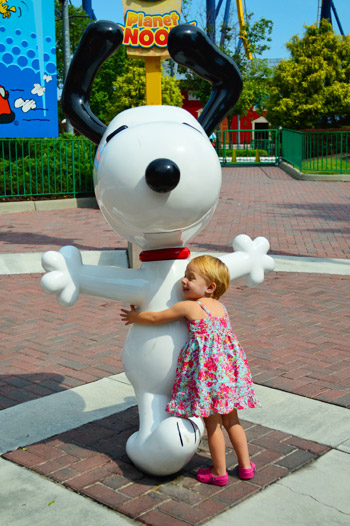 In a spur of the moment we-might-regret-this decision, John and I decided to ride something ourselves: the Drop Zone tower – one of those rides that lifts you up into the air (272 feet) and then drops you down at 72mph. There are a couple of YouTube videos (not ours) that capture the experience here & here. It was actually really fun slash totally scary. We did that thing where we giggled for ten minutes afterwards while we got our bearings again.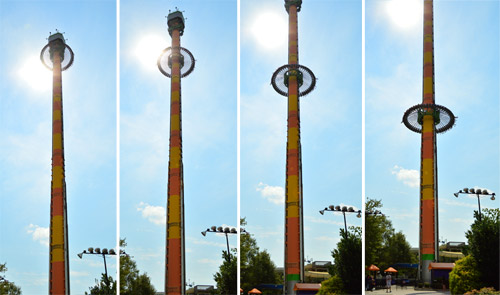 Once we were safely back on the ground, we headed to the water area so Clara could finally unleash her water-loving agenda.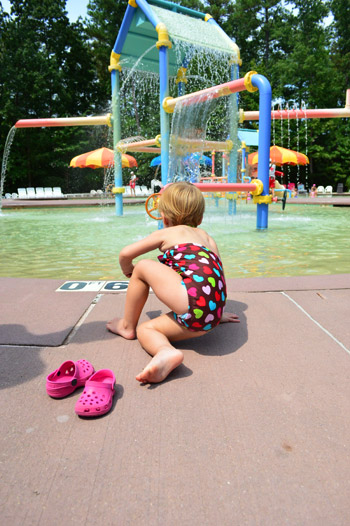 For the most part it involved splashing water out of the baby pool.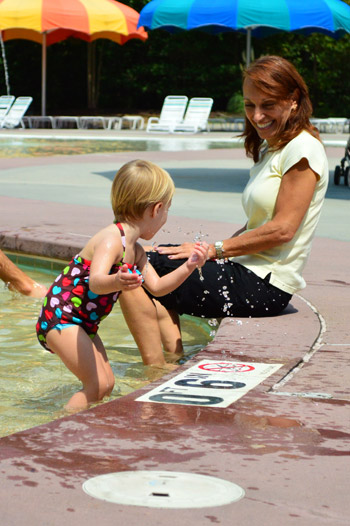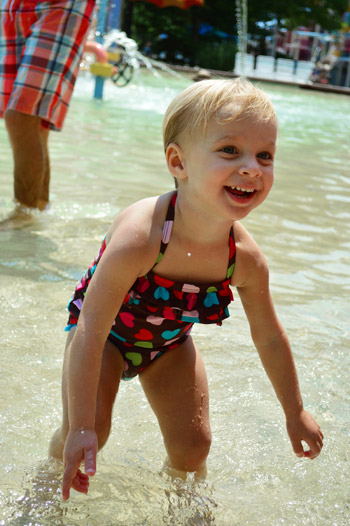 And some synchronized jumping into the pool with Nonna. This kept us busy for a good 30 minutes.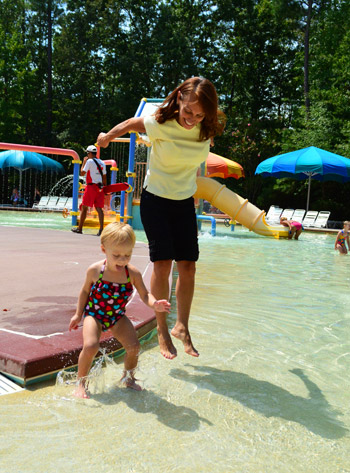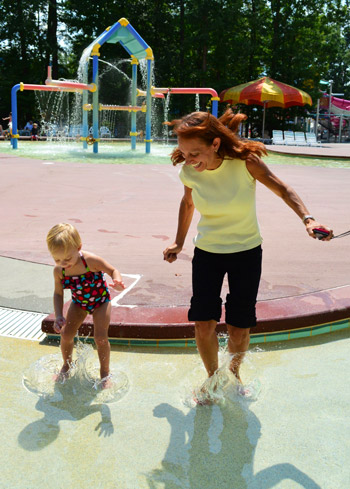 After lunch we moved on to another part of the water area with all sorts of opportunities to get soaked. Clara still doesn't like getting her head wet so she spent most of her time playfully dodging jets and waterfalls. Her favorite part was playing a game of chicken with this giant bucket that dumped water onto everyone who was standing below it every few minutes. Note the butterfly photobomb.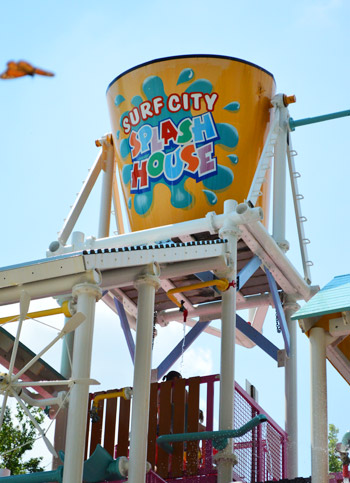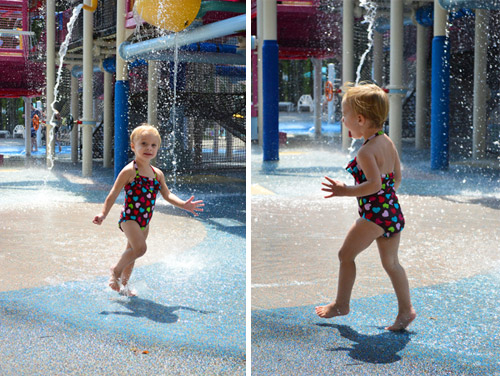 She loved the bucket because once it dumped there was a nice pool of water to splash around in.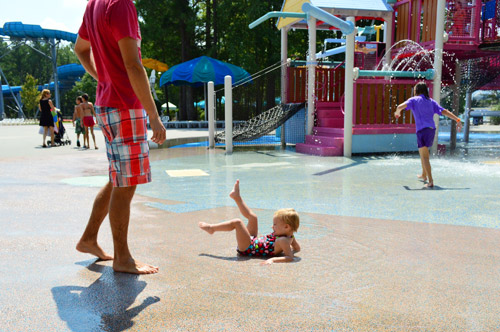 We eventually wrapped up our time with the water because it was getting close to someone's nap time. On the way out we checked out one more ride – the antique cars, which Clara loves to ride with John's parents (they've taken her a couple of times already this summer since they have season passes and Clara is free 'til she's 3). John and Clara were brave enough to let me drive (since it's pretty much an auto-pilot thing). As a reminder, I only drove for about a year in high school before going off to college in NYC, where no one drove (I lived there for 6 years, then moved to VA, but we're a one car family, so I pretty much haven't driven much for the past 12 years, although I still have a license that says I'm technically allowed). From the photo below you can tell that Clara wasn't sure it was a smart decision to let me take the wheel…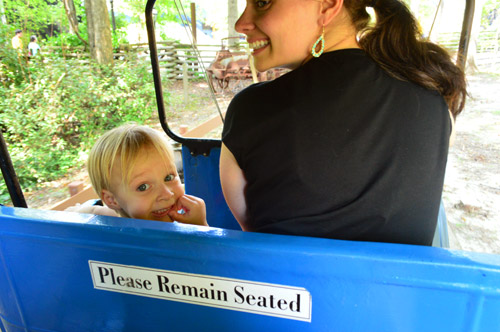 Has anyone else hit up some amusement parks or thrill rides this summer?
&nbsp Comment

&nbsp&nbsp&nbsp

&nbsp

&nbsp
If you enjoyed this post, please leave a comment or subscribe to the feed and get future articles delivered to your feed reader.
96 Comments