Archive for July, 2012
In our brief recap of our Atlanta trip on Young House Love on Wednesday, you probably got a pretty good taste of all of the adventures we had with the Bowers – like playing in their backyard, venturing out to some local attractions, and even taking a dip splash in nearby pool.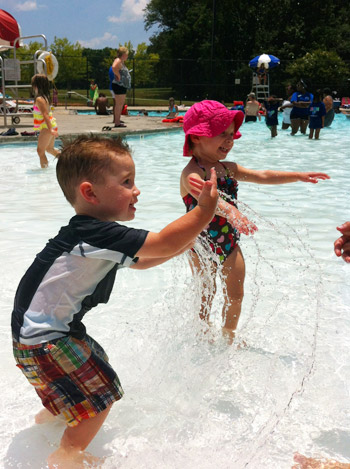 But if you're the type that won't settle for just a taste (like me around Chewy Chips Ahoy), here's the next course in the photo-filled feast: Our trip to the Altlanta Zoo (or as they named it in some effort to throw off my natural word order instincts: Zoo Atlanta). Oh and there are some pretty awesome photos over on Katie's blog too. But here are our (not nearly as professional) pics of that fateful and animal-filled day.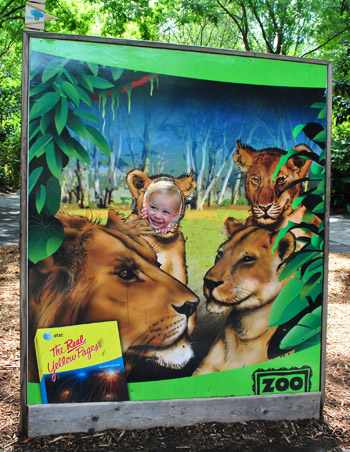 Some of these pics are repeats of what was shared in the earlier post, but we just couldn't help ourselves from including them in the official zoo post. This is Sherry's favorite of all time.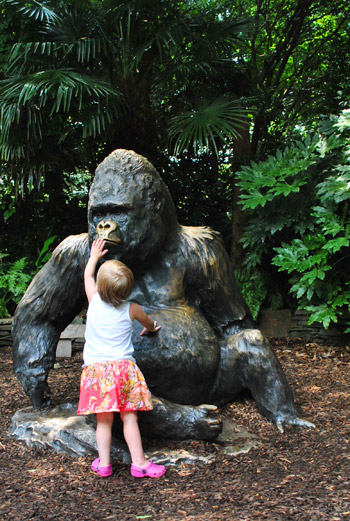 But here are also some new ones to introduce to the mix – like Will getting in on the "let's defy the 'No Climbing On Statute' action."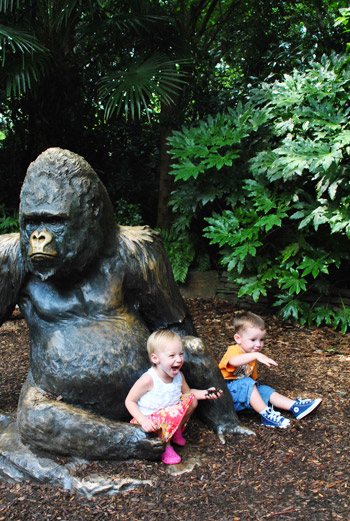 In fairness to Will and Clara, they actually kept off most of the statue (minus the gorilla's feet).
Probably because their earlier climb-on-statue-together attempt ended a bit territorially… and this somewhat awkward photo is all we got.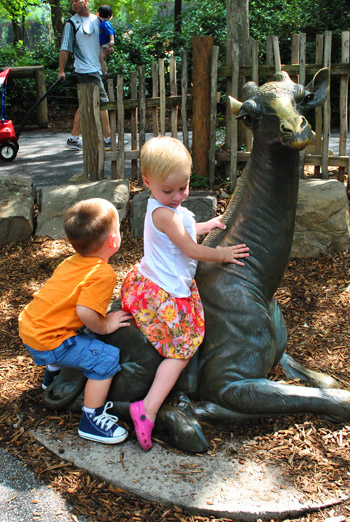 They did cooperate when it came time to jump in the giant Eagle's nest together, but of all the snapshots we got – this one of Clara flying the coop was the cutest.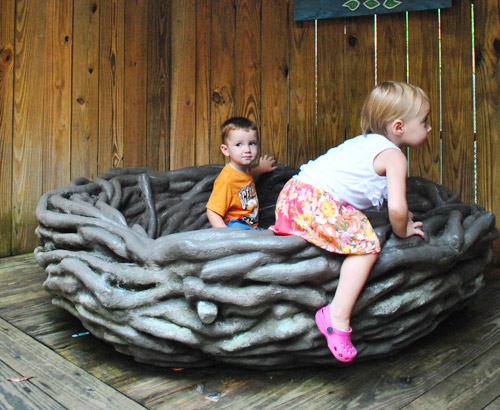 The zoo itself was very cool (though definitely not temperature-wise) and there were lots of ways for the kids to interact and play (as you've probably gathered by now). In a few instances, the animals made themselves scarce (probably because it was such a hot day) but I actually think the kids enjoyed the peripheral activities more than the main attractions. Activities like "pushing the stroller I'm supposed to be in."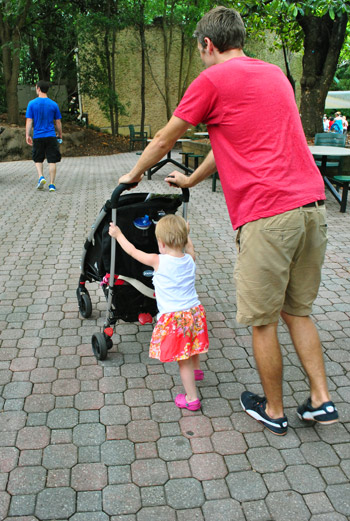 And "running away from the stroller Daddy's trying to get me back into."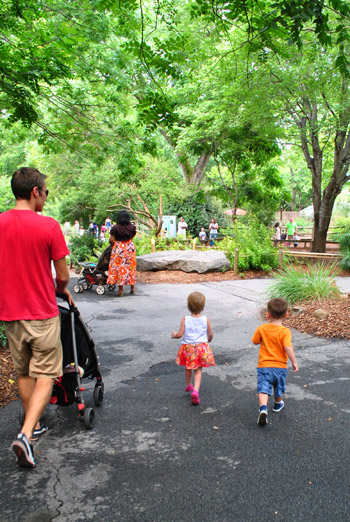 Clara did periodically make it into her stroller and we periodically did see some animals. Though if you asked me what we were looking at when this picture was taken, I couldn't say. Monkeys maybe?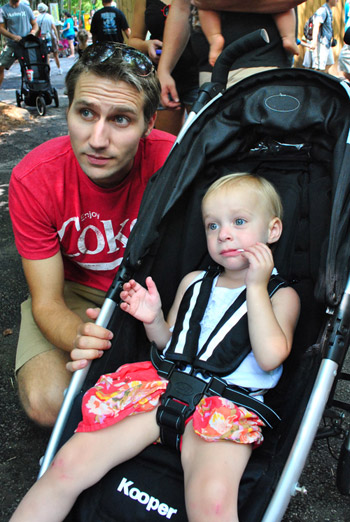 Probably the biggest hit of the day (category: animal) were the goats in the petting zoo – which hilariously (at least to me) was donated by Orkin. Something about seeing the logo of a famous extermination brand next to a petting zoo made me expect to see creatures far less furry and friendly inside.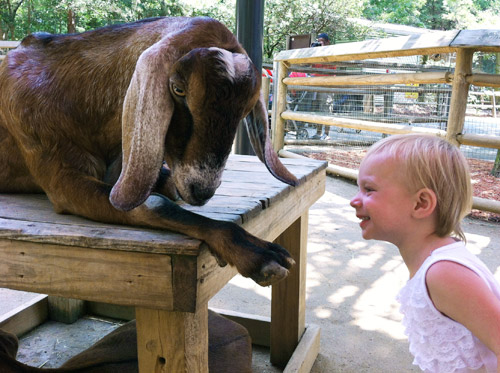 Clearly the visit put a smile on Clara's face. It also put one on the face of this dentally-challenged goat as well.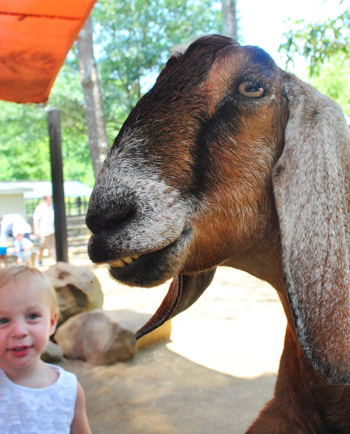 The tie for biggest hit (category: non-animal) were the rides. The Children's Zoo had a moon bounce, a climbing station, a playground, a train, and a carousel – almost like a mini amusement park right on zoo grounds. The kids were nearing nap-time so we squeezed in just the train and carousel.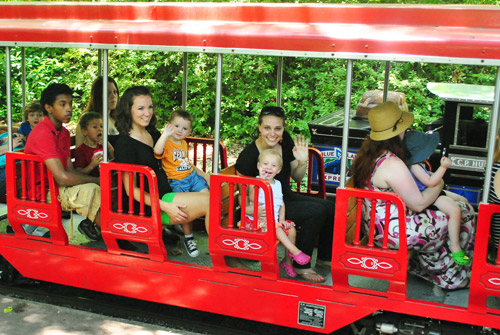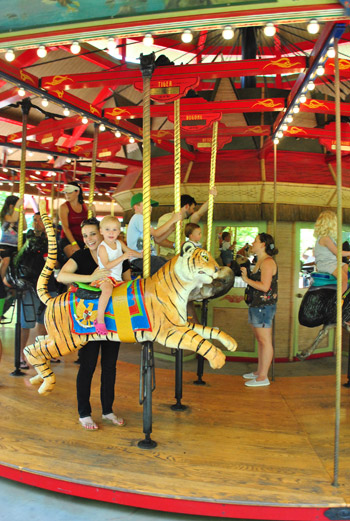 Clara made her tiger-loving dad proud (in my childhood I had a big thing for big cats… ok, and regularly sized cats too).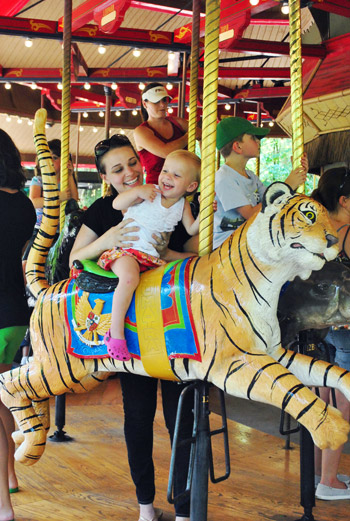 The zoo was only one half of our Atlanta animal adventure, but we'll save all the photos from our trip to the aquarium for another post. Why? Because I haven't sorted them yet. Haha. Soon I hope!