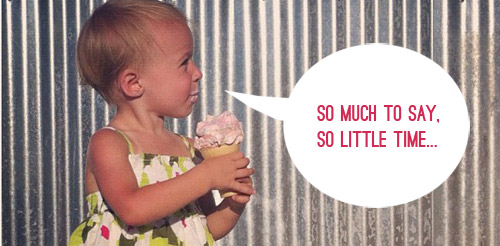 Here are a few of my recent favorite conversations with Clara (check out the first few posts about our chats here, here, and here). We tend to think she gives funny gals like Amy Poehler a run for their money (or should I say, a run for their monies?) but we might be biased…
Convo #1:
Daddy (while pointing to a ferret at Petco): Do you know what that is?
Clara: Ooh, a polar bear!!!!
Convo #2:
Mommy: Are you going to be a good girl in the store?
Clara: I'll be good. No screaming. Thank you. You're welcome.
Convo #3:
Mommy (while paying with Clara's play kitchen): Ooh did you make me a sandwich? Is it yummy?
Clara: Yes! It's a-licious!
Convo #4:
Clara: Snuggle in my crib with me!
Mommy: I'm too big for your crib.
Clara: I'm getting bigger. You're getting so tiny!
(*She totally Benjamin Buttoned me. Does she think old people shrink while young people grow?)
Convo #5:
Clara (singing): I'm a little teapot, short and shout, here is my cupcake, here is my shout.
&nbsp Comment

&nbsp&nbsp&nbsp

&nbsp

&nbsp
If you enjoyed this post, please leave a comment or subscribe to the feed and get future articles delivered to your feed reader.
88 Comments