Archive for June, 2012
We feel like we're kinda bingeing on Richmond events and festivals lately (like the recent Street Art Festival and Riverrock). But that's what summer's for, right? And this weekend was no exception. In fact, it was almost a literal binge thanks to the bountiful food at the Broad Appetit street food festival (held on Broad Street, hence the name).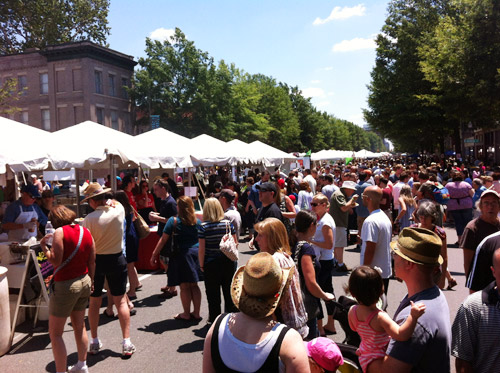 The concept behind the event is that 60-something local restaurants gather in booths along Broad Street to serve up mini versions of their signature dishes for just $3 a plate. Since we don't get out to "nice" dinners much anymore, it was a fun way to check out some local eats without having to wrangle a babysitter (Clara was happy to roll through in her stroller).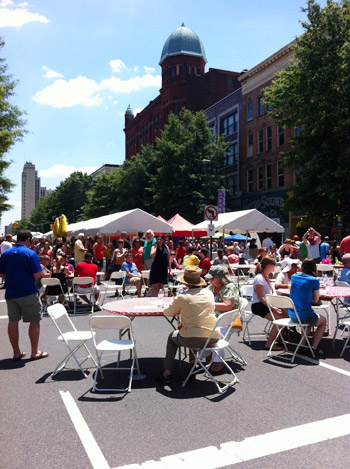 But enough talk. Let's get on the "food porn." Here's what we munched on: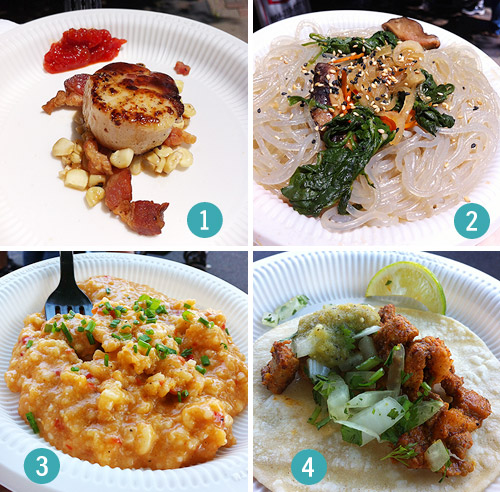 1. Seared scallops with charred corn and bacon with a tomato marmalade from Spoon. (My favorite of the day!)
2. Sweet potato noodles with carrots, onions, scallions and mushrooms from Ginkgo.
3. Sweet red pepper risotto from The Camel.
4. Pork taco from Tio Pablo Taqueria (Sherry's favorite!)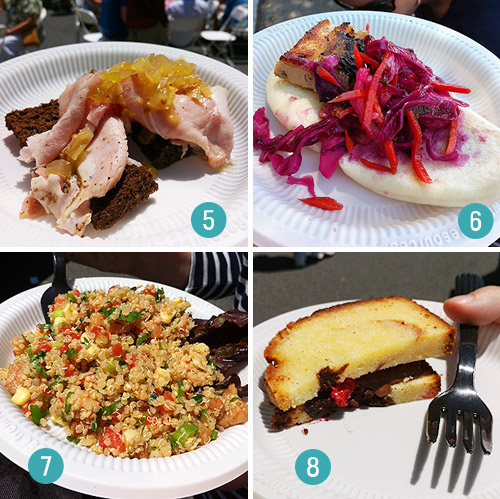 5. Pastrami pork loin on pumpernickel with green tomato chow-chow from Pasture.
6. Pork belly buns from Sticky Rice.
7. Shrimp and quinoa from Canal Bistro.
8. Grilled pound cake and homemade nutella with macerated raspberries from students at Stratford University.
BELOW: Cake pops from the Cake Valley Candy Company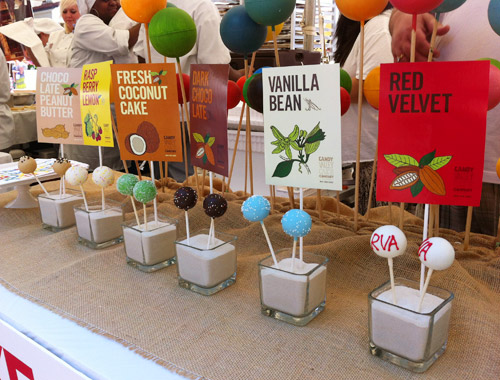 Picking the cake pop we wanted was perhaps our toughest decision of the day. We finally went for the raspberry lemon one, as some of you saw in this Instagram picture that we shared from our visit.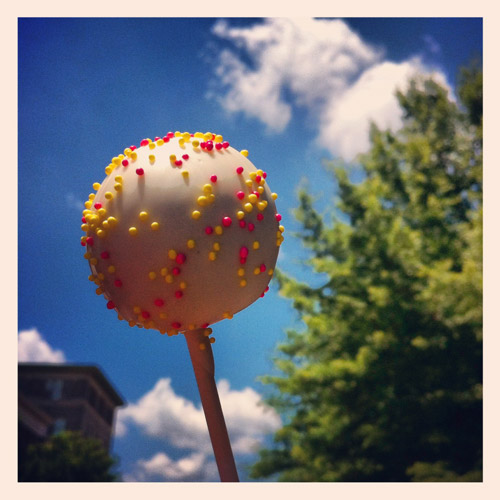 Once we switched over to dessert mode, it was hard to stop. We also got this watermelon basil popsicle from Spoon thinking Clara would love it.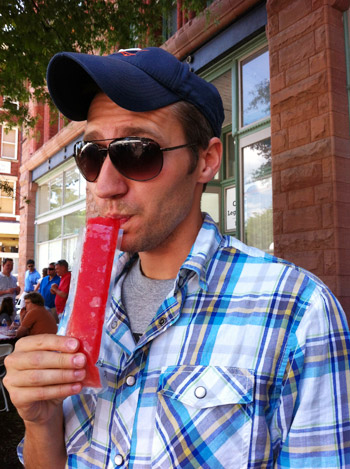 But she took one bite, made a sour face and turned back to the lollipop that had kept her occupied the whole time. Oh well. More watermelon basil pop for us.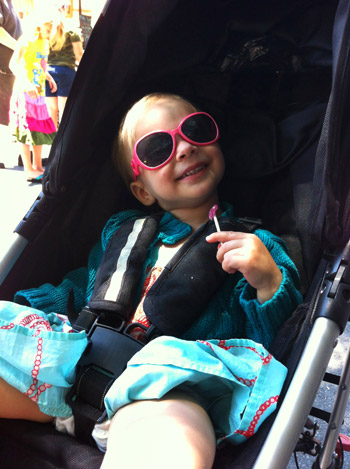 We finally called it quits and started to head home. Although after seeing this sign for a Chocolate Bacon Cupcake we wish we had left room for one more morsel. Darn it!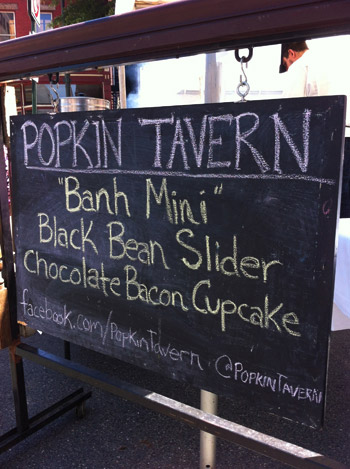 Sherry also left the festival wishing she had brought home another piece of bacon – aka these pig statues that were peppered around one of the booths. She wanted one. Hardcore.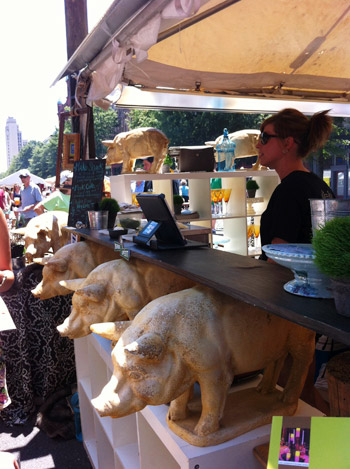 Somehow I think someone would've noticed the short Jersey girl running away with a pig tucked under her arm.
Pig or no pig, we had an awesome time. We could go to a Broad Appetit every weekend if it was there. Who do we call to make that happen?
My mom was digging through some old stuff the other day and found this little story I had apparently written and illustrated when I was just seven. Here's the advice I can glean from having discovered it:
1. Choose a title that grabs attentions. Feel free to borrow revered historical phrases like "I Have A Dream" for your two-page, completely nonsensical story about basketball. Those aren't big shoes to fill or anything.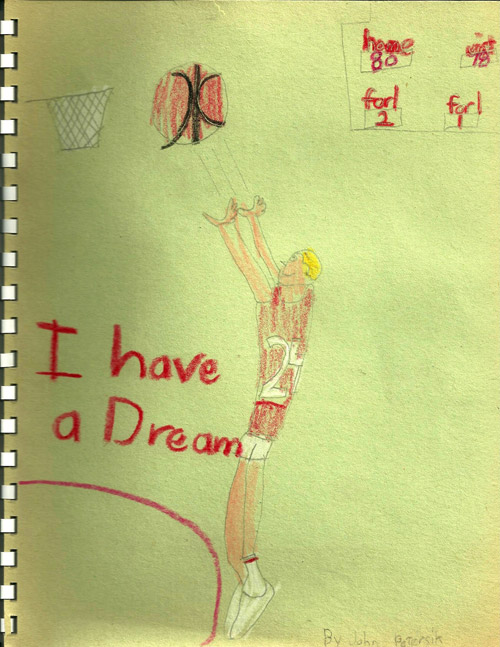 2. People are over stories where the underdog triumphs. So tell a tale where "you help the good players on the team" – because everyone knows it's the people with all the talent that need the most help, right? Also, be sure your comic book style drawings are peppered with disembodied speech bubbles (people will appreciate the mystery of wondering who's talking) and include your own spin on traditional spelling (we think "forl" = "foul").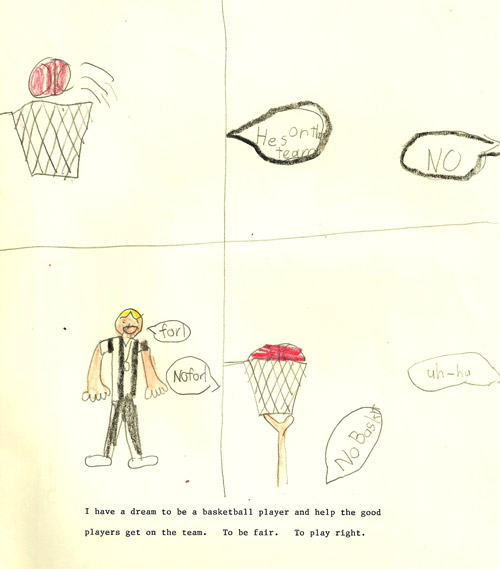 3. People love before & afters. Especially ones where people transform their bodies (why do you think The Biggest Loser is so popular?) so include those wherever possible. Especially ones where someone's long, skinny arm becomes shorter and more muscular, like an accordion that's been folded up.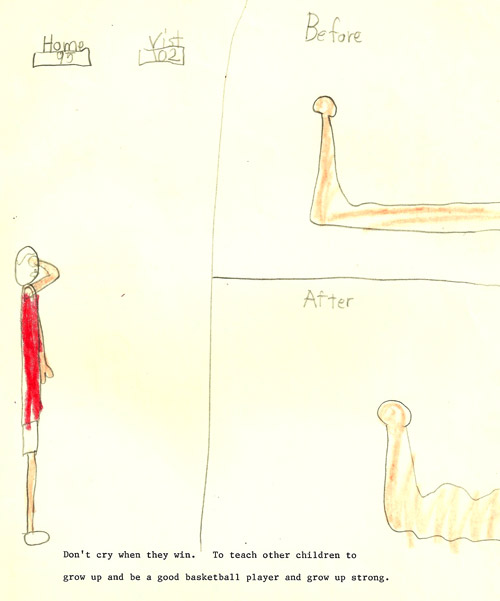 3. Keep your bio page short and sweet. If nothing else, use your "About The Author" page to (1) point out facts they've probably already gathered from your story and (2) impress the ladies (when in doubt, mention cats).