We recently went to celebrate our cousins' son Edison's first birthday in Northern Virginia. It was quick trip, but a blast nonetheless. The party started off with a visit from a balloon artist and face painter, whose skills were much more elaborate than any we'd ever encountered before. We  – Clara included – were captivated as the artiste (she deserves that fancy "e" on the end) painted, stamped, and glittered masterpieces on everyone's faces, arms, and legs.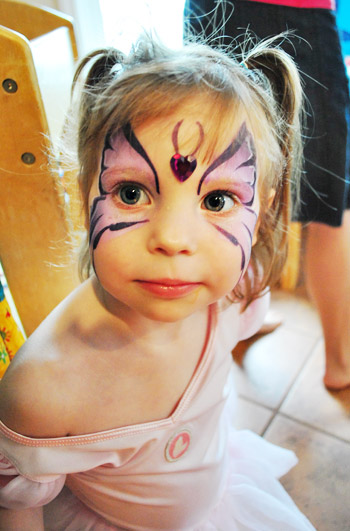 That's the birthday boy's sister Elsa above, and our niece Olivia below.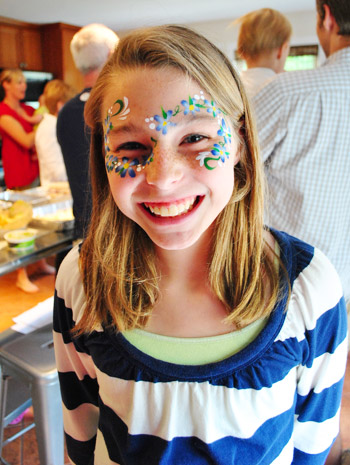 Despite our initial hesitation that Clara was "too young" for it, she seemed eager to have her turn in the face painting chair – especially since her BFF Elsa got her face painted first. She even bravely exclaimed "yes!" when the woman asked if she wanted to be a "Rainbow Princess."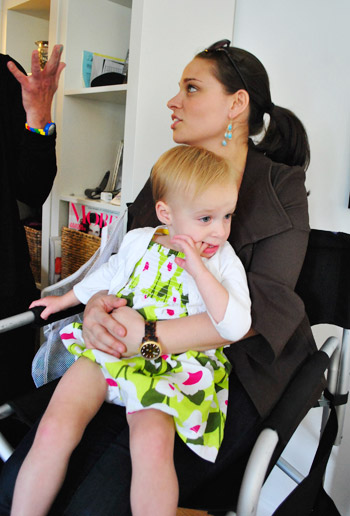 Applying the rainbow part of that equation involved swiping a pre-painted sponge across Clara's forehead, which resulted in immediate oohs and aahs from at least a dozen adults who were standing around watching. Well, this sudden realization that she was the center of attention spooked Clara and she let out some aahs of her own. And we're not talking little cries, we're talking seeing-fire-at-the-hibachi-restaurant-in-Hawaii shrieks (more on that here). This is the only other photo that we got of the fiasco, which captured the floodgates just beginning to crack open before the full-on wailing began. That's my I'm-sensing-an-imminent-meltdown face: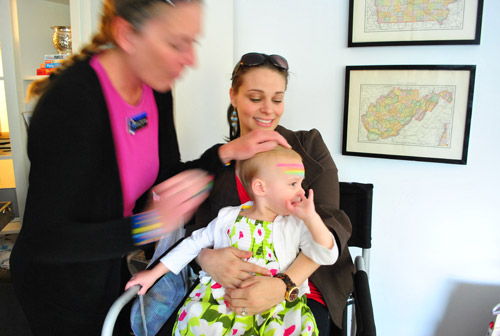 Thankfully we got Clara out of the room and into a quiet place to calm down, and she was fully recovered and back to playing with Elsa's toys a few minutes later.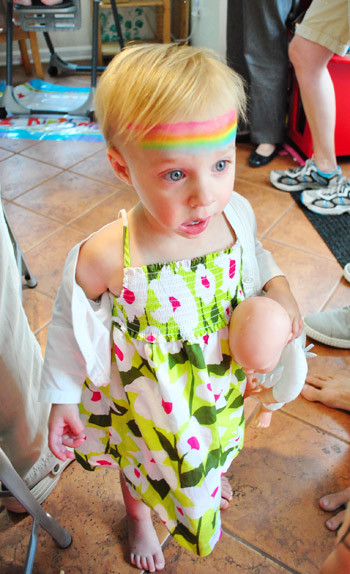 But we're still kinda bummed that we'll never know what the Rainbow Princess was supposed to look like. Instead she just kinda of looked like she got sideswiped by a clown car for the rest of the party.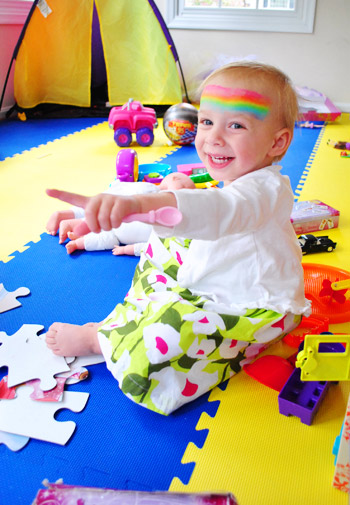 Oh well, at least she didn't seem to care.
UPDATE: Since a few of you asked in the comments, the face painter's name is Carol "Dee Vinchey" Turman and you can contact her via her website.
&nbsp Comment

&nbsp&nbsp&nbsp

&nbsp

&nbsp
If you enjoyed this post, please leave a comment or subscribe to the feed and get future articles delivered to your feed reader.
87 Comments