Archive for April, 2012
This is just a video for Clara's proud grandma in NY who wanted to hear her ABCs and numbers. Clara has her alphabet down pretty well by now (anything that's a song is usually something she picks up pretty quickly) but numbers can be a bit more tricky. She's got 1 through 10 under her belt, so now she's having fun with those challenging teen numbers (she always seems to skip thirteen – maybe she's superstitious?).
Maybe it's just because she's ours, but she cracks us up.
Saturday was the Monument Avenue 10K, a giant road race here in Richmond that has become a Petersik family tradition of sorts. One year we had 13 family members run or walk it, along the with 40,000-some other folks who participate.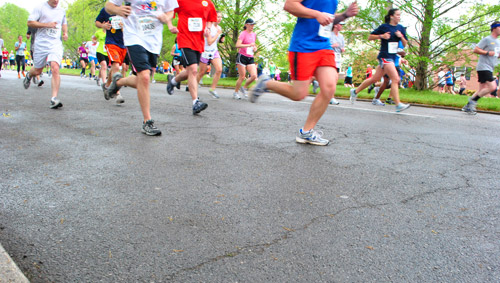 But lately it's just been a few of us running (this year was my 11th consecutive year) while others cheer us on from the sidelines. Our newest cheerleader being Miss Clara herself. Did someone say more cowbell?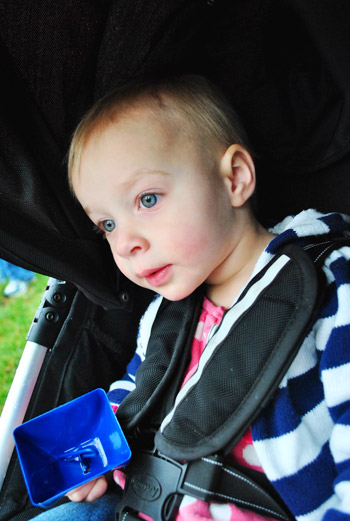 I owe Sherry (and my mom and sister Carrie) a big thanks for camping out in the light drizzle just to catch a glimpse of us speeding by for a hot second (okay, maybe I'm exaggerating how fast I was actually running).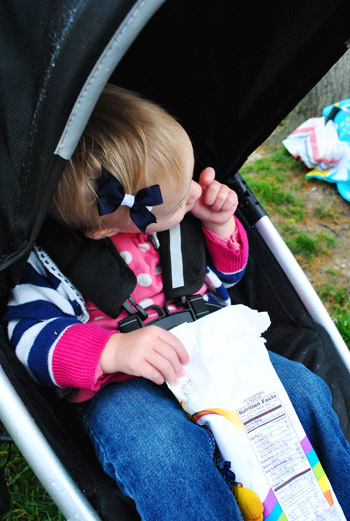 Clara was kept busy with books…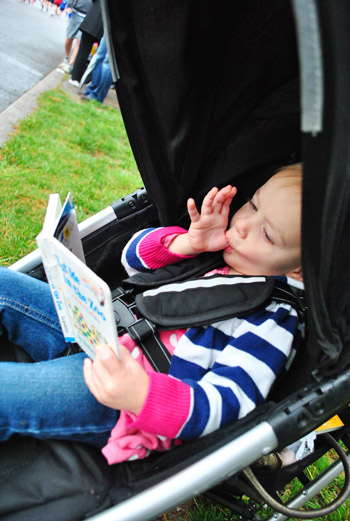 …and snacks…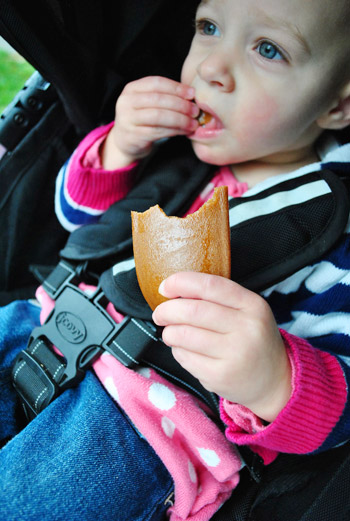 …but eventually they caught that glimpse of me strutting my stuff down the street.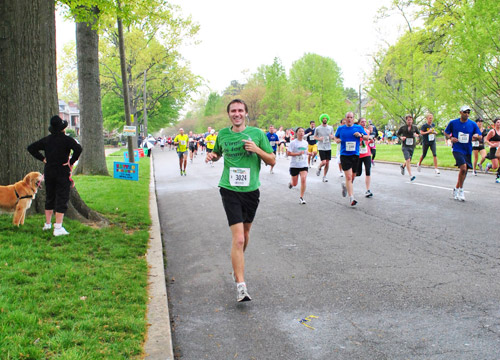 As fun as it is to see my girls cheering me on the from the sidelines, I am eager for the day Clara can join me in the run (assuming I'm still up for it a decade or so from now). And we'll have to get Clara some better shoes. And solve this socks and sandals situation going on: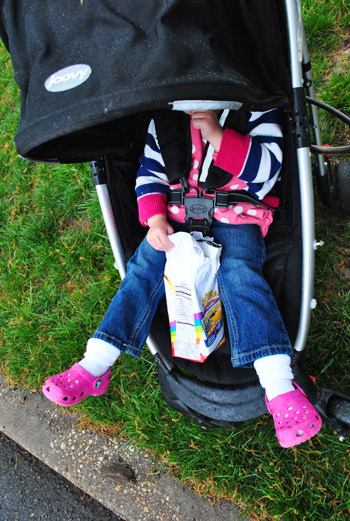 Just in case any other runners are curious about my race, it was good, but not my best. I ran it in 48:37 – about 2 minutes slower than my fastest time (in 2007) and 90 seconds slower than my 67 year old father ran it this time. Someday I'll beat him. But I guess I'd have to squeeze in more than one run per month to actually get faster. Maybe next year!