I'm not sure we've ever formally introduced you to Bearger. No, not Burger – Bearger. He's a stuffed bear that was a baby shower gift for Clara, but ended up becoming one of Sherry's I'm-so-pregnant-and-uncomfortable-that-I-need-soft-things-between-my-elbows-and-knees-to-sleep amenities. And somehow he has been a bedtime companion ever since… which is why he's named after our other bedtime buddy.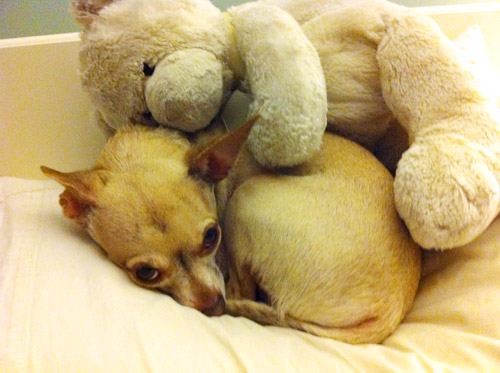 But lately Clara is finally getting some quality time with her gift. That is, if your idea of "quality time" is holding it by the neck and repeatedly dropping it to the floor. Oh, Bearger…
So now I think you've really met all the members of our household. Unless there's a rogue ceramic animal in the playroom just waiting to be introduced.
&nbsp Comment

&nbsp&nbsp&nbsp

&nbsp

&nbsp
If you enjoyed this post, please leave a comment or subscribe to the feed and get future articles delivered to your feed reader.
34 Comments