We have an outdoor shopping mall called Stony Point about ten minutes from our house, so one of our go-to activities this time of year is to head over for a bite to eat (mmm, Chipotle) and a couple of loops of walking around the mall (which means I probably burn off 1% of my Chipotle meal, haha). With an Anthro, Banana, and BabyGap it gives me the excuse to do a little window shopping too. Although lately our family walks have been very literally that (i.e. that Clara actually walks with us, no more stroller most of the time). At first we had trouble… how should I say…. keeping her focused on the task of moving forward. There were lots of stops to touch things, stare at people, hide from people, etc. But that was only until we discovered her love of these stone puppies that grace the grounds of the mall: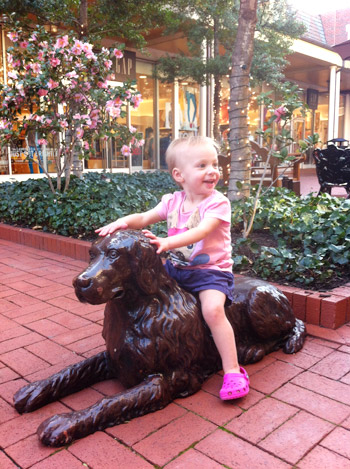 These dog statues are placed at a couple of spots within the mall (which is dog-friendly) and Clara LOVES sitting on them (that's what they're for, right?). So they've become quite the motivator on our walks. Not only can we keep Clara walking ("Let's go find the doggie!") but having more than one of them is perfect for not spending our entire visit in one spot ("I think this doggie is tired, let's go look for the other one!"). Though we still end up spending a few extended pit stops at each one…
We never really understood the reason for these statues before Clara (Burger certainly wasn't interested in them). But now we're extremely grateful that they're there. Now if only they'd put one inside Anthropologie. I for one wouldn't mind a longer pit stop in there…
PS: Somewhat unrelated to this, but how cute is this hat? Clara tried it on when we popped into BabyGap on one of these visits. Who knew she was a hat girl?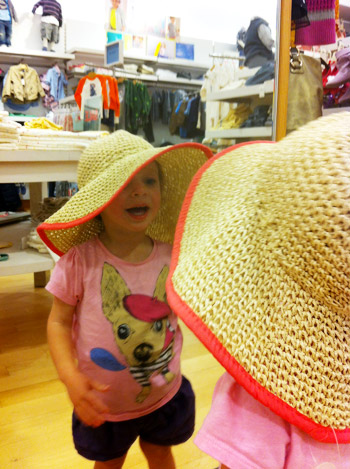 And yes, she calls the dog on her shirt Burger. And if you stop to say hi to her she'll tell you all about it. Haha.
&nbsp Comment

&nbsp&nbsp&nbsp

&nbsp

&nbsp
If you enjoyed this post, please leave a comment or subscribe to the feed and get future articles delivered to your feed reader.
61 Comments