Clara got her first ride behind the wheel of one of those grocery store "race-carts" the other day. You know, those big shopping carts with a special kids-mobile on the front of it? This one in particular even happened to be named after our bean: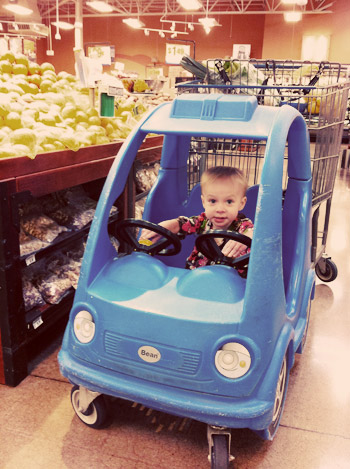 We'd avoided them so far – both because Clara didn't seem interested and because I try to hang onto whatever shred of dignity comes with not pushing around a giant blue plastic grocery cart. But that day Clara saw another kid getting into one and I realized it's no more embarrassing to push that around than to have a fussy toddler in the front of your cart.
I'm glad I swallowed my pride, since it kept Clara very happy for the entire trip. Though I did look down at one point to notice this: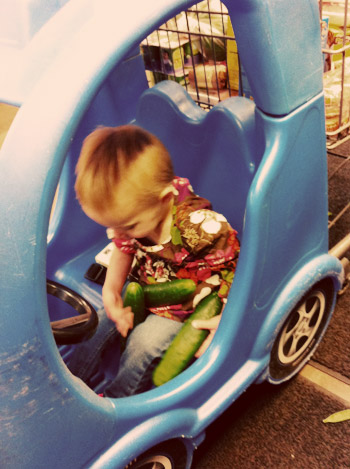 I must've wheeled too close to a produce display at some point and Clara seized the opportunity to grab some cucumbers from the nearby shelf. I guess that's the downside to the Beanmobile. Covert vegetable hoarding.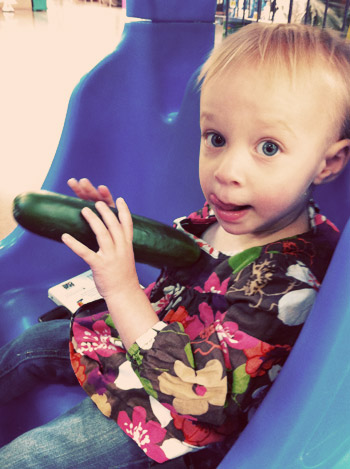 At least they're a pretty harmless (and inexpensive) treat to add to the shopping list.
PS: I used one of Pioneer Woman's Photoshop filters (one called "Seventies") to help disguise the ugly iPhone-ness of these pictures.
&nbsp Comment

&nbsp&nbsp&nbsp

&nbsp

&nbsp
If you enjoyed this post, please leave a comment or subscribe to the feed and get future articles delivered to your feed reader.
102 Comments