Amidst all of the photoshoot stuff, we've also been prepping for our trip to Portland on Tuesday. Part of that prep work involved readying Clara for six hours on a plane (yikes). We've been reading books with airplanes in them (Knuffle Bunny Free has been getting a work out) and working up her endurance just sitting quietly and watching a video (Toy Story 2 at the moment). We've even got her wearing the pink children's headphones we snagged at Target. Don't want to disturb the other passengers now do we!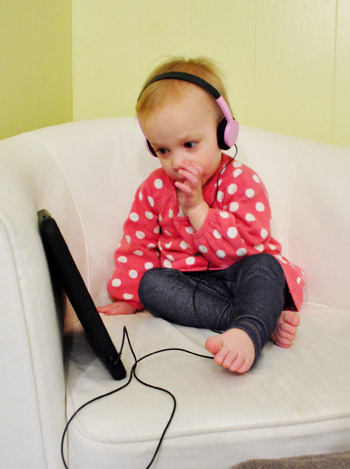 Wish us luck! And perhaps cross your fingers that you're not sitting near us on the flight.
&nbsp Comment

&nbsp&nbsp&nbsp

&nbsp

&nbsp
If you enjoyed this post, please leave a comment or subscribe to the feed and get future articles delivered to your feed reader.
145 Comments