Archive for December, 2011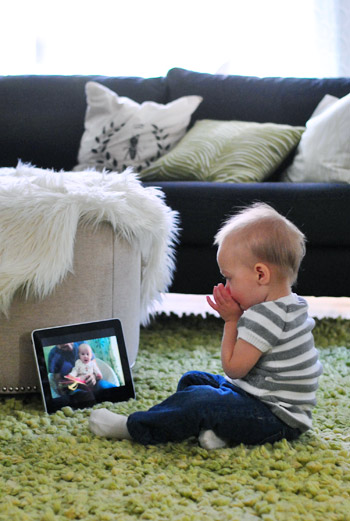 We recently showed Clara the birthday video we made for her back in May (you can watch it at the bottom of this post). She is officially OBSESSED.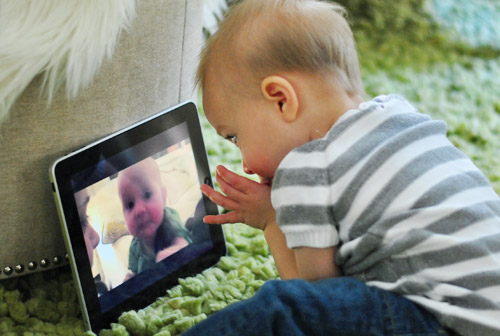 So now it's loaded on the iPad, which I fear will wear out given all of the use it's now getting. "Baby video" (as she calls it) gets requested 3 or 4 times a day and she's glued to the screen for all 9 minutes and 8 seconds of it. Heck, it even seems to be becoming her yoga video as well.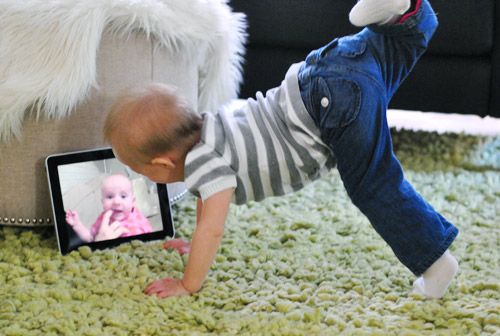 While we're trying to put a cap on how many times it gets watched each day, it has been a nice way to help her learn the names of some of her relatives, like my grandma and Sherry's dad, so it's proving to be somewhat educational. Maybe this narcissism thing is ok for now.
Thanksgiving always seems to be a whirlwind of traveling, friends, family, and food for us. This year we started off our adventure in New Jersey to cram in visits with as many people as possible. Though somehow we only really ended up with two good pictures, this one of me and my good friend / former work partner Heather (and her sweet son Evan):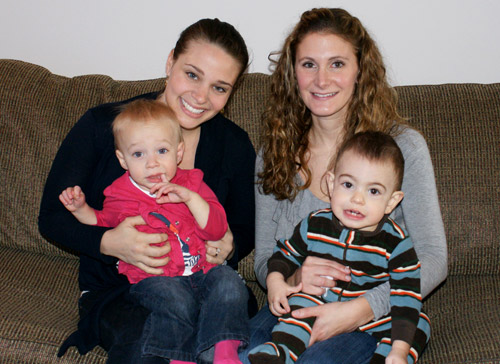 It's amazing to see how much both of our kids have changed since our visit last Thanksgiving, when Evan was only 7 weeks old and Clara was just over six months):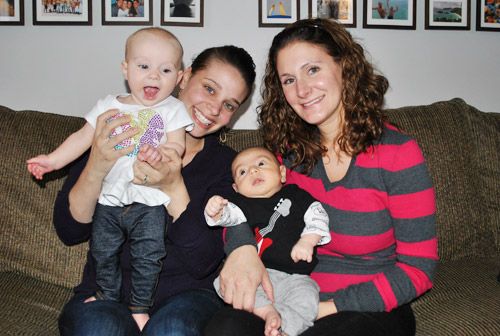 As much as Clara enjoyed playing with Evan while we watched the Macy's Thanksgiving Day Parade on TV, she was most enamored with her Uncle Monkey (aka my brother Almost-Dr. Dan – who actually will become a bona fide doctor/chemist this January!). For the record, Dan established the "Uncle Monkey" nickname for himself, and Clara is quickly catching on (when we showed her this picture a few days later she exclaimed "Uncle Monkey!). Now if only I could get $herdog to stick…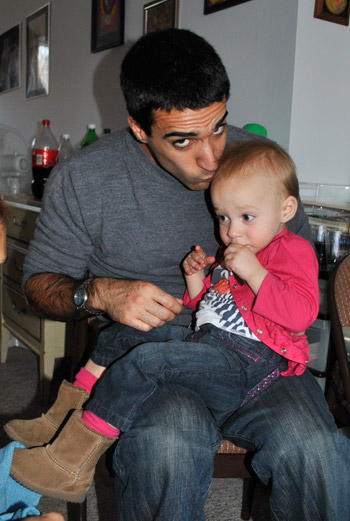 Sadly we didn't get any pics of Clara with my mom, my dad, or my grandma – that's how much of a whirlwind it was. And then after a few good meals in Jersey / New York, we headed to Delaware to clock some time with John's family at his parents' beach house (where that whole crew was gathered for their Thanksgiving celebration). And thanks to the unseasonably warm weather, we actually got to spend some time on the beach itself. It was an amazing 75 degrees!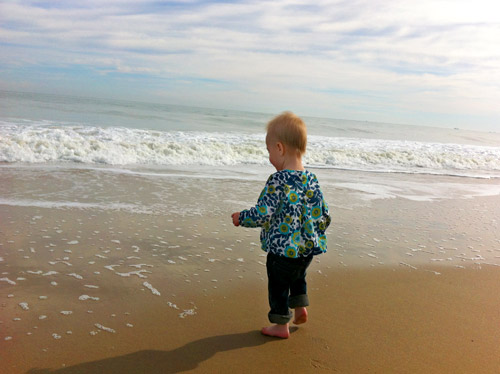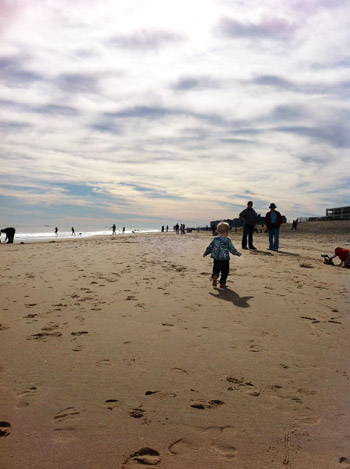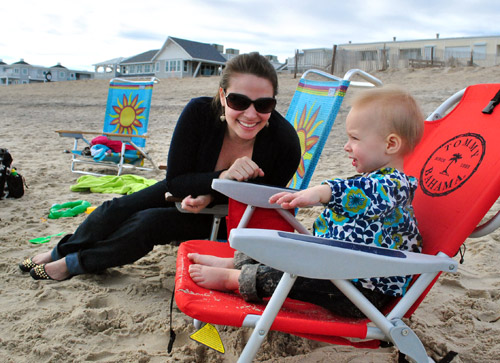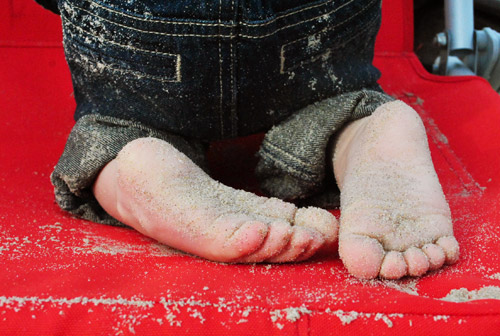 But most of Clara's time was spent playing with her cousins, specifically cousin John (who's about 10 months older). We don't see him as often because he lives in Manhattan, but John taught Clara the wonders of coloring…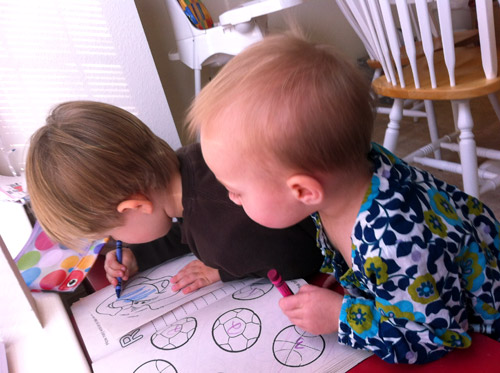 … as well as the joy of throwing rocks in the bay (it was very shallow there btw, which is the only reason I'm ok with John not holding her with both hands while she wears ten life jackets)…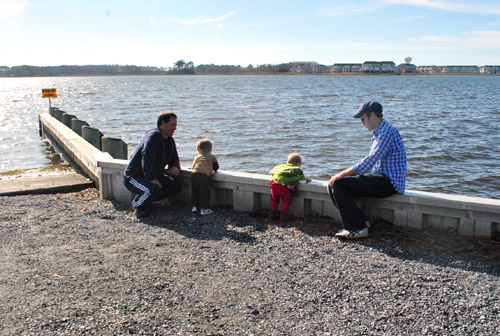 Clara repaid him with one (well, several) of her intense tackle hugs.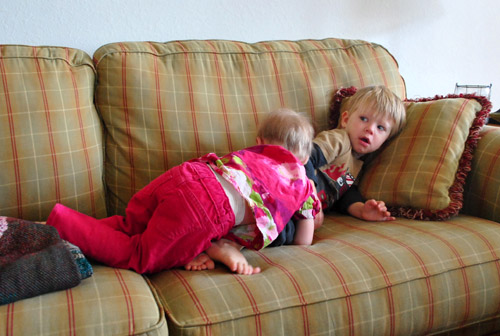 And even reserved a gentler version of her hug for new cousin Ben, whom we got to meet for the first time on this trip.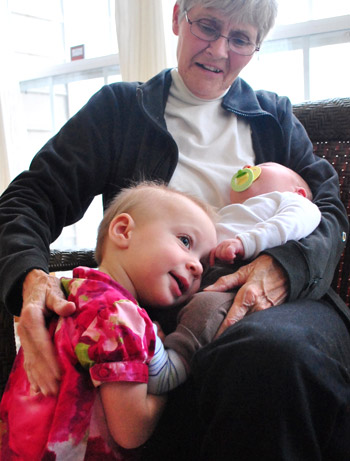 Clara was in love with "Baby Ben," as she calls him. Like legit, all-caps IN LOVE with him.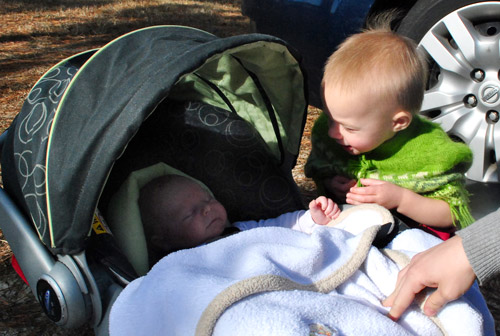 And we, Ben's aunt and uncle, were pretty fond of that boy too. No need for bump watch on me though – we're still about a year off from being ready for Baby #2. But we're very happy to enjoy this little guy in the meantime.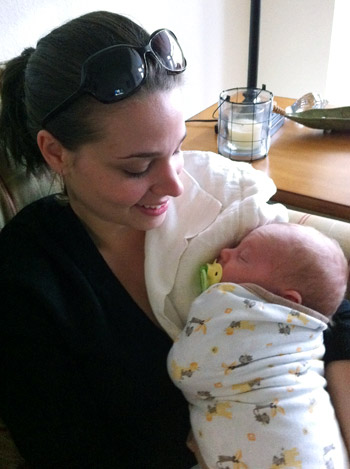 John and Ben even had a "Who can make more neck rolls" contest. It was a tie.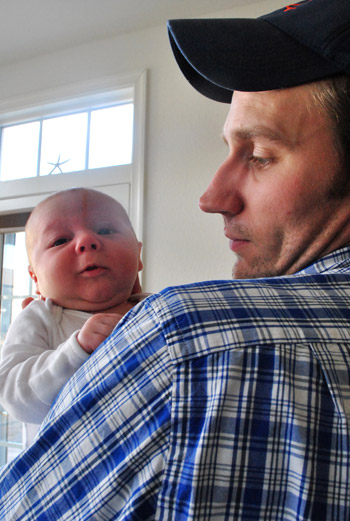 The other star of the weekend for Clara (besides Evan, Cousin John, Uncle Monkey, and Baby Ben) was John's Dad, aka Tom Tom.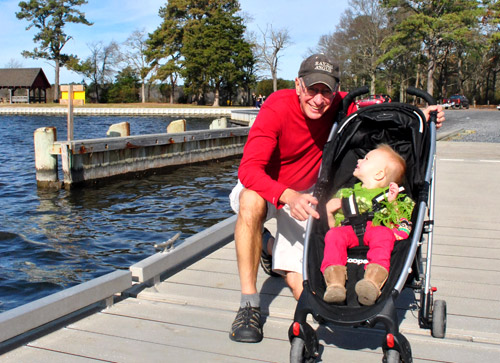 Even if she had to share him with her other cousins, we often found Clara right by Tom Tom's side.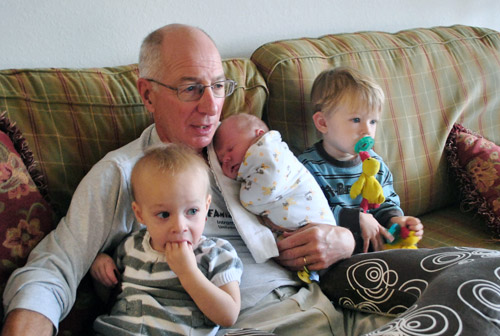 She even helped him plant a tree (sort of).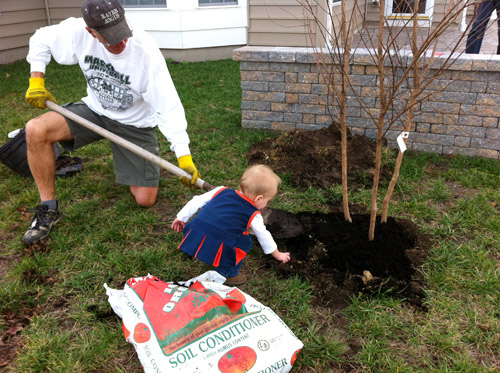 Oh, and if you're wondering about Clara's clothes – she was cheering on John's alma mater on Saturday thanks to a UVA cheerleading outfit that his mom got her. Though it clearly didn't work because UVA was slaughtered by Virginia Tech. Sadness. But look at those long legs!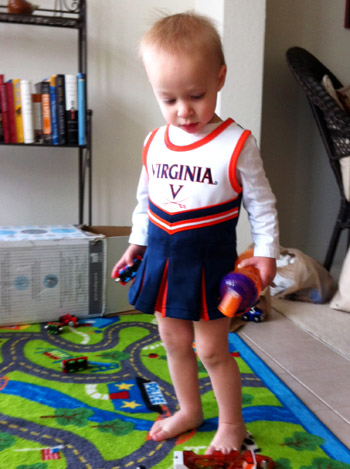 Despite all the boys to play with over this holiday weekend, there was still room for Daddy. Even if Daddy was giving me a heart attack by swinging her around (which she of course loved more than I would have like her to). It was hair-raising for both of us, in two senses of the word.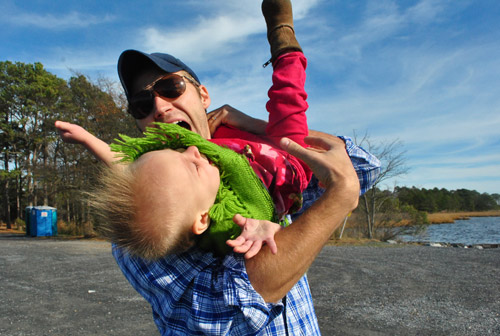 And we can't forget about Burger – look how sweet he is. Just sunbathing on the beach house steps. Not a care in the world.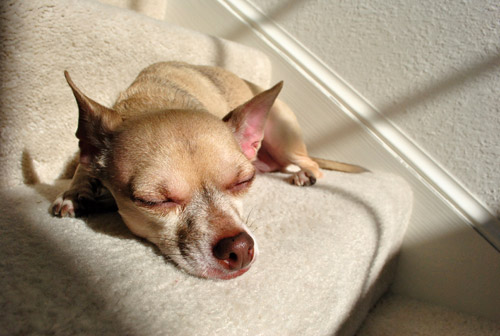 So that's what our whirlwind NJ, NY, and DE Thanksgiving looked like. Lots to be thankful for. How about you guys? How'd you spend Turkey Day?