Our Charlotte-based friends Matt & Kristin (whose house we've crashed here and here) visited last weekend to see us and some of their other Richmond friends before they relocate to San Francisco in a few weeks. We're always glad to see them, of course. As for Clara? She's mostly glad to see their dogs, Simon (below) and Sage.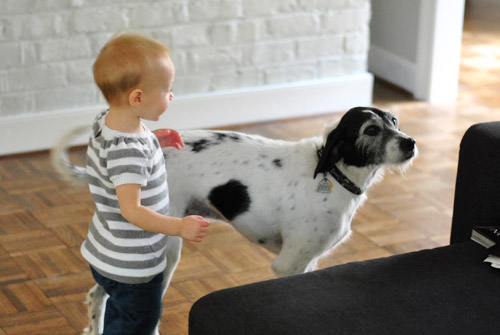 It's the first time we've had dogs other than Burger in the house, so after much barking (on Burger's part) things calmed down and Clara could once again get all up in Sage and Simon's business.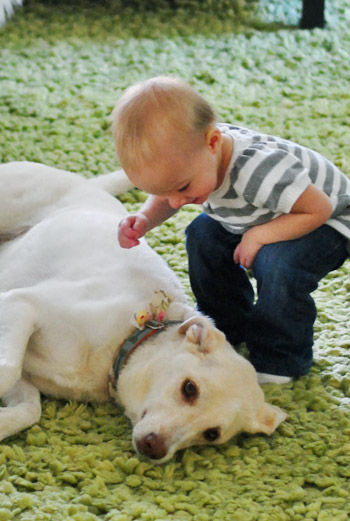 Just like when we visited them last time, the dogs were very good sports about the 1.5 year old who wanted to pet them non-stop, follow them around the house, and giggle like crazy whenever their tails whapped her in the face (seriously, it cracked her up).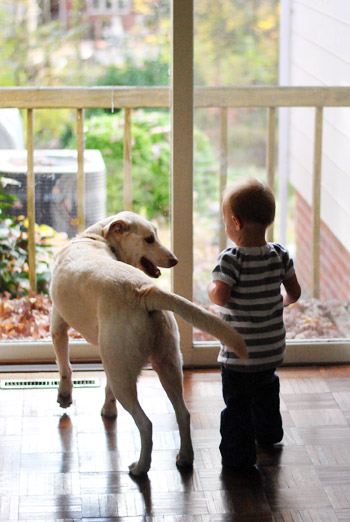 Here's where we'd insert a picture of Burger, but he was busy scooting around so fast that we couldn't get a shot (or hanging out under the covers in the bedroom). It was as if he was extreeeemely excited to have dog friends in the house and completely petrified at the same time. Poor guy.
&nbsp Comment

&nbsp&nbsp&nbsp

&nbsp

&nbsp
If you enjoyed this post, please leave a comment or subscribe to the feed and get future articles delivered to your feed reader.
51 Comments