Archive for November, 2011
The new baby in the family had us feeling all nostalgic so we had some fun looking back at old photos of when Clara was born. Amongst which was this video, which I don't think we ever shared (Sherry doesn't even remember seeing it).
Here's the set-up: Sherry and Clara were still in the hospital, so I was periodically going home to let Burger out. On one of the trips, I brought Clara's hospital cap with me so Burger could get a first sniff of his little sister (we heard it would help him adjust to her arrival home – and it was really all we did to help him adjust other than bringing him a toy and a treat on the day we actually brought her home and showing him lots of love even with a newborn around). Anyway, since Sherry couldn't be there for the cap-sniffing, I videotaped the moment for her to later watch from her hospital bed.
So glad the kiddos get along so well.
On October 27th, Clara ended her reign as the youngest cousin in the family when my sister gave birth to my parents' sixth grandchild: Benjamin Thomas. That's him below with his older brother John (who turned 2 in July).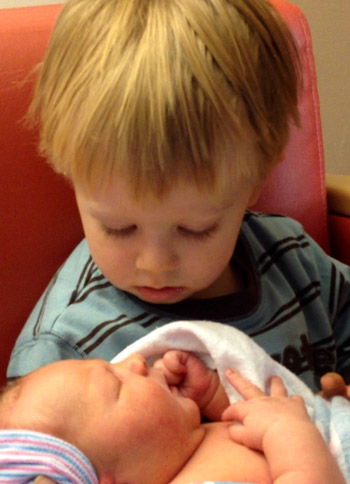 We haven't had the pleasure of meeting little Ben yet (they live in New York City) but we're all extremely charmed by his photos. Especially Clara, whose favorite pastime is looking at pictures of babies and saying "Hi baby! Hi baby! Hi baby!" and then walking away after saying "Buh-bye baby!"